After working on this for a week I've decided this design is indeed Heidi (Lisa in Chicago — thanks for the suggestion!)
I've knit the yoke a couple times now. I've changed gauge twice, and decided to give more ease in the top. Here's where I am now.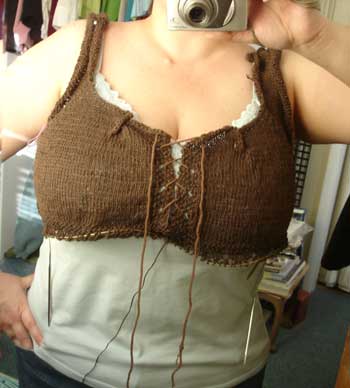 I'm really happy so far. I've pinned the sleeves and front top to simulate the size once I knit the neckband. I think it's going to work.
I thought a lot about how to size the yoke, and where to put the band that separates it from the bodice. As you all know I'm busty. I went to the mall and tried on a variety of tops and confirmed what I already knew — if you're busty, you won't want this yoke to go all the way down to the bottom of your bust (well, unless you want to bring new meaning to yarn ho). So the top hits me about 3/4's down my bust. I think this will be a good length for most people (as your bust decreases, it will outline and accentuate it even more.
Still, I plan to include instructions on how to lengthen/shorten the yoke area. It's a simple adjustment and gets to one of my primary goals for my patterns — explaining where and how to change fit.
I'm also concerned about making my patterns too complicated and therefore cause someone to feel overwhelmed (can you tell I've been thinking about this a lot?). So I've been working on the layout and structure of the pattern. I want to strike the right balance.
OK, off to knit the neckband!
More from savannahchik.com