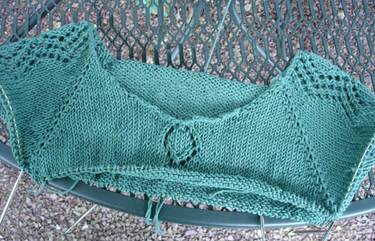 The yoke is just about done. Just to make sure I
tried it on
. It's about 3/4″ above my tank top at my underarm.
I'm going to do 2 more rows and then cast on underarm stitches and join the body. When I did Somewhat Cowl I joined when I hit the top of my tank top and I found that it got lower afterwards. So I think this will make a slightly better fit. The armhole depth should be about 3/4″ shallower than Somewhat Cowl.
As many of you know, I'm obsessed with armhole depth. I think it's one of the crucial measurements that makes or breaks a well-fitting top. Most patterns have armholes that are too deep in my opinion. I'm not sure why. Stylistic preference? Easier for mass-fitting? Lack of knowledge? Or maybe I'm just really short? Not sure.
So, this is one of those measurements I've been paying a lot of attention to in terms of how it will play out in the patterns that I write. I've scoured books and the internet for "standard" body measurements (all over the map!), I've compared sizing of some popular brands (just as many differences) and realized that this is an issue that a lot of designers struggle with getting right.
I've been considering giving 3 sets of directions for armhole and body shaping — petite, "average", tall. It would mean more work, and it would mean I'd probably opt for a pattern price of $6.50 versus $5 or $5.50. What do you think? Is it worth it to you? I think it would be, but as the one creating it my opinion is far from unbiased.
Landscaping Update
Remember the
grass planting
from last month? Well, take a look
here
and
here
. Yes, we have grass! The side by the house has been planted for almost 5 weeks, and the side by the street for almost 3 weeks. When school finally lets out, I think we'll be able to remove the stakes too. They're tacky, but were totally necessary. After the first day without them there were a dozen footprints scattered among the seeds.