Thank you all so much for your suggestions and general good vibes that you sent my way! I haven't had a chance to reply to them because all free time has become blankie-time. So, here's a big public thank you to you all!
I had a lot of great ideas to consider. In the end I've decided to
Knit exclusively on the blankie. Any other knitting right now wouldn't have the same meaning. I have 2 cute sweaters sketched out for the baby but they're not being done in a day (one is a gansey and one is an aran).
Look at the store to see if any of the coordinating items for the baby's room are available. There are a few really cute ones that I could wrap up and be very happy with giving as a gift.
Put together a gift for Kelly — bubble bath, candles, etc. She's had to live with my brother's baby inside her for almost 9 months. She can use a little pampering.
I may also make a few bibs or burping cloths from MSD after finishing the blankie. I really like them a lot. I chose not to go this route for the shower only because it feels like cheating to hit the Saturday deadline.
Two things that several of you said that made me decide this path were the fact that a) the baby isn't born yet. Kelly is scheduled for a c-section on July 7th, and b) they're my brother and SIL and will DEFINITELY understand.
I will probably NOT bring the blankie with me to the shower. I want it to be a surprise in its completed form. Kelly used to read the blog but I had asked her to stop (and she's so cool that I am positive that she did!) so I want the completed blankie to be the first time she sees it.
She already knows I won't be finished. My brother told her last night and she called me and told me it wasn't a big deal.
See, I told you…she's very cool.
Now if you got this far you deserve a pic of the blankie. Here it is, all 17 squares of it.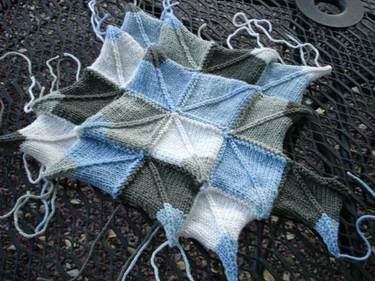 The texture that has come out in the past day pleases me to no end. I've decided not to line it, which means every end has to be woven in as well as they can be (no hiding them inside the lining!).
Those of you who know me well know that I take it as a good sign that I fell asleep last night knitting the 17th square*. And I'm using that to tell myself that weaving in
the ends
won't be so bad either.
I know, but let me live this lie for a little longer.
* it's a prime number!