OK, dear readers, you were right again. Several of you implored me to weave them in as I go.
I really didn't want to do that though. As we all know, if the knitting is done, we can claim an FO.
well, not really, but doesn't it FEEL like an FO?
Then I did a little math.
always, always, trust the math
84 diamonds * 4 ends per diamond = TMFE*
So, I've started knitting in the ends that get created when I start a new diamond. That halves the total number of ends.
And then, I've been occasionally weaving in some ends just for fun.
not really for fun, but certainly for good my sanity
Here's the latest shot. It's a little over 25% done — which means it's officially growing at a speed several times faster than baby p.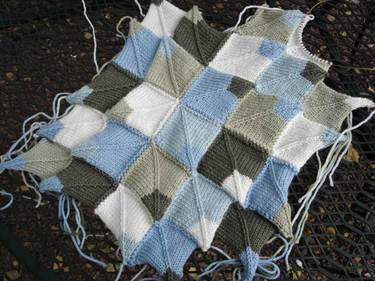 too many fucking ends…336 to be precise