baby p, 96% done
blankie, 38% done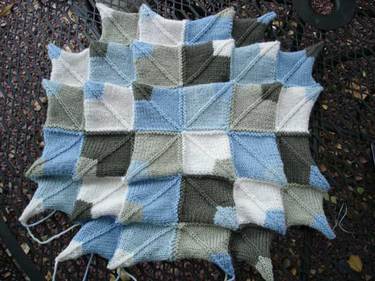 Here we are, 11 days from delivery, and the blankie has grown to 38% complete (32 of the 84 diamonds).
On a more important note, I heeded all your great advice and weaved in all my ends. I now have a few more again, but still, those were a lot of ends!
I'm also knitting in the end that starts the color change. So, I've halved the total number of ends. Again, because you all pushed me and made me realize that I should! I don't often (ever?) do much with multiple colors of yarn so it just didn't dawn on me to do this.
I am, yet again, losing steam on this project. But, I'm staying on task and I haven't picked up the needles to knit anything else.
4
The baby is due in 11 days. If I knit
4
diamonds a day I will make the deadline. And — almost as important — I will not have my
4-day
July
4th
vacation consumed with baby blanket knitting.