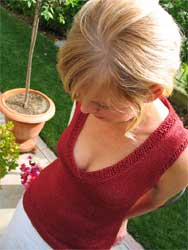 Knit and Tonic Wendy just released her latest pattern today — it's called Sizzle (you can buy it over at The Garter Belt). It's a great little summer tank with a plunge neckline, darts for waist shaping, and side vents — perfect for a hot night on the town, or paired over a shirt for a little more modesty.
Why am I mentioning it? I did the technical editing on the pattern. Many of you know my love for numbers so it's probably not a big surprise that I do some pattern editing too. I really enjoyed working on this pattern and I'm anxious to hear what you all think! Wendy's the designer so the kudos go to her for a fun, versatile design.
As for me, I'll be happy to hear that the top knits to the measurements in the schematic and all the stitch counts make sense. You know, all the little stuff that keeps a pattern editor up at night.