I've been sketching a lot of cables and knotwork lately, so it seemed logical to me to focus on fall knits. I know, warm weather knits can have cables too, but really…do you want to wear extra yarn on your body when it's over 100 degrees outside?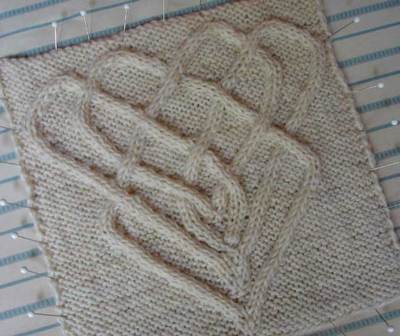 So, I knit up this swatch. It's got to be the biggest swatch I've ever knitted! It's in
Bemidji Original Homespun
— a nice, undyed yarn that's similar in weight to Cascade 220, but similar in colorways to
Cascade Eco Wool
. It's a 4 ply yarn and there's a bit of vegetative matter in it — nothing to rival Noro though.
I love the range of natural colors and could see any of them working up into a beautiful cabled sweater.
The best part though — it's only $4.95 for a 225 yard hank. Not bad for a yarn that shows up cables this nicely.