You may have noticed a few KAL buttons over there on the right.
When I joined them I swore that I wouldn't join any more until I successfully completed one of them.
Just one!
And if I asked for a vote back in May of which one I was most likely to succeed in, I bet most of you would have guessed the socks. While it still has a fighting chance (2 months to go, and Trekking prefers a basic pattern so they would knit up fast, and I have several balls of it in the stash so no problems there).
So anyway, it's the Summer of Stash! People, I haven't bought a single ball of yarn since a week before Memorial Day!
The best part? I'm feeling strong enough to make it at least another month without withdrawal.
Now, the genius part of this KAL is that you can list 2 exceptions. It's like the bonus points on Weight Watchers. Sanctioned cheating so you don't give up. I told myself that I could buy for anything I'm designing because I can't force a pattern to fit the yarn if a certain design inspires me.
This weekend, I wasn't sure what I'd do that cabled swatch in…so I remembered the Bemidji. Perfect! Great gauge and great color choice for checking out all the cable lines. I bought it a year and a half ago, so renewing interest in an older yarn is a great feat.
But, I didn't want a cream colored sweater. It just wasn't what I had envisioned.
And then it hit me…I had the PEFECT yarn!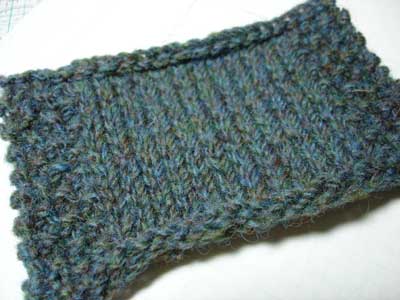 Black Water Abbey
in Moss. Moss does not accurately describe this color AT ALL. It has a mossy overall hue, but there are bits of blue and teal and yellow. It's a gorgeous, complex color, and I loved it from the moment I got the color card. I thought it would be my perfect
St. Brigid
but it wasn't meant to be. The gauge just didn't work out and the restulting fabric wasn't pleasant and light.
Mary Beth
* tried to warn me but I had to find out myself.
So, this BWA yarn — what could be more perfect than designing for it? I get to pick the exact gauge I like for the yarn, and let the sweater grow from there. I have
all the cables mapped out
, and I've decided on a finished garment size (I sized up because I think this should be a looser fitting sweater…I'm a little nervous about that).
Many of you asked what this will become. At this point it's obviously a sweater. For now, I'm going to hold off showing you a sketch of the whole thing. Just to keep it interesting.**
*MB: i'm sure you're having a fantastic summer and enjoying the lack of the blog haunting for you to post, but i miss ya!
** i say to keep it interesting but it's really for motivation. since i'm pretty excited about this one, this will encourage me to knit knit knit so i can see how it progresses and share it with all of you! not showing you the sketch right now also gives me some more creative freedom to change my mind as i knit. i'm interested in seeing how closely i end up following the sketch, and i'll definitely post a pic of it when i'm done.