Guilt got the better of me and I decided to cast on for my Mom's jaywalker-knock-off-knee-highs over the weekend. I had the yarn from this year's MDSW so there was no reason to delay any longer.
I'm doing them toe-up to make the knee high fitting easier, and to make sure I don't run out of yarn.
I wound my yarn, dug out my needles and cast on. Too big. I cast on again, still too big.
Cast on a third time, just right. I knit several inches and realized — it was pooling awfully.
No problem! I have 2 hanks, I'll just alternate skeins. Wind up the other ball, add it to the mix.
do i need to state that i've also upped the complexity from knee socks to knee socks and battling alternating balls of yarn? not my idea of fun, but it is for mom.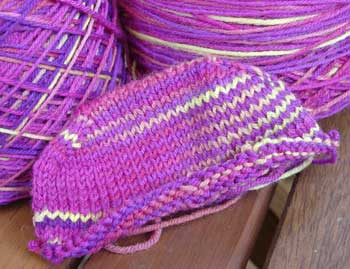 Apparently, I was too good at picking out matching skeins because even their pooling is the same. I even started the second ball halfway into a repeat, but then the pools just happened on opposite ends of the foot and alternated. Not good.
I wasn't sure what I'd try next so I let it sit for a while. And then it dawned on me. The
perfect way to resolve it.
So simple, and so, so pretty. I don't know what took me so long!