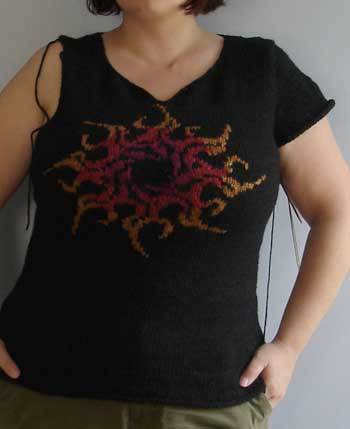 So the big black blob of the back is done. I did a quick mattress stitch of the sides and tried it on — success! I can't be the only one who's terribly nervous at this point on every sweater, am I?
The motif is stretched a bit more across my body due to the negative ease, but the picture makes it look more skewed than it is. You can't see how it's going out and back in around my bust.
The sleeves
I've always been curious about top-down set-in sleeves, but then
Lauren went and posted about it
several times this year and put me over the edge.
I'm thrilled I did. I had very little fretting to do with this sleeve — the thing just
worked
. It's the closest I've come to knitting magic in a long time.
I feel the way I did the first time I knit a cable or a short row.
In addition to the sleeve cap fitting beautifully, I can now try it on as I go. I have a couple of ideas on sleeve cuff treatments and this will make it so much easier to try them out without the fear of wasting so much time knitting. And, there's just something simpler about knitting a tube in the round. I know I could have knit the sleeve in the round anyway, but this just makes it that much easier.
I love it.