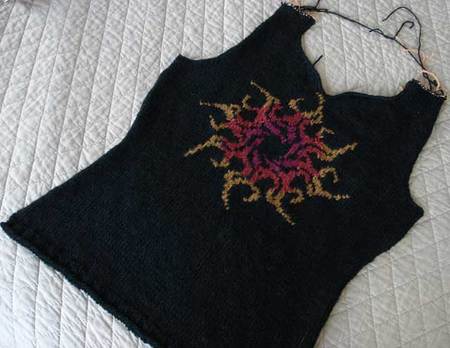 Neckline
I finished the intarsia last weekend but then I stalled — not sure what I wanted to do with the neckline. I decided I wanted something shapely but not fussy — and I wanted the edge to be knit on versus picking up stitches afterwards.
The edge is pretty simple. I slipped the first stitch of the edge to keep them tidy. Then each side has a purl stitch as the third stitch — allowing the edge to roll under just a bit, but stop at the purl stitch. I think it will lay nicely once it's on, but I have to finish knitting up the back to find out for sure.
Waist Shaping
I did basic waist shaping, decreasing about an inch on either side via
k2, ssk, knit to 4 sts remaining, k2tog, k2
The decreases were knit about an inch apart (the section from the bottom going up toward the waist), but I sped up the increases to accommodate a full bust by spacing the increases only three-quarters of an inch apart. You can see the difference in the photo. I did this instead of short rowing — as an experiment more than anything else. I had planned on short rows and the motif was small enough that short rows would have fit. But, I wanted to see what this did for the fit instead. I won't know until the back is done and sewn together.
Blocking Cash Iroha
I am *so glad* I washed and blocked my swatch before starting this sweater. This yarn blooms
A LOT
. Take a look.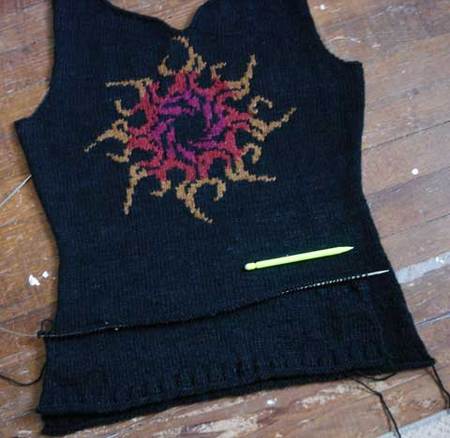 I placed the back-in-progress on top of the washed and blocked front. They both have the same number of stitches, yet the front is a good 2 inches wider (at least). See that pencil? That's how many rows I've knit on the back. The row gauge grows considerably too.
I've also read that Cash Iroha has a tendency to stretch out as you wear it. I think the sweater will be a tad snug when I first put it on, but assuming it will stretch a bit it should fit like a good pair of jeans after an hour or so.
At least, that's the plan.
More from savannahchik.com