I've been making a big effort to eat better lately, and that inevitably means cooking more often. I've made this salsa a dozen times since the spring, and I always get requests for the recipe.
I don't think it's particularly unusual, but the mix of flavors goes well together works with lots of meals. Spoon it on top of grilled chicken breast, serve it on the side of pork kebabs or fish, or put a big bowl of it out with some chips for an appetizer at a barbecue.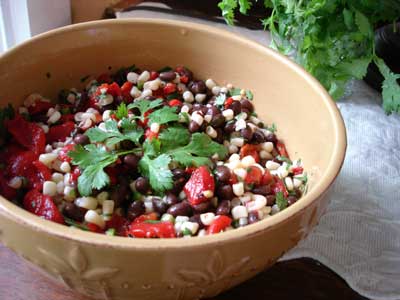 Black Bean Salsa
1 can (19 oz.) black beans, drained and washed
1 bottle (12 oz.) roasted red peppers*
1 can (11 oz.) white corn*
1 jalapeno, minced (or to taste)
1/4 cup white vinegar
2 Tb chopped scalliions
2 Tb chopped fresh cilantro
Salt and Pepper to taste
Mix all ingredients together in a big bowl and place it in the fridge for at least a half hour. Letting it sit and marinate a bit in the fridge really helps the flavors meld together.
I always make a big bowl of it because it keeps well and works for quick lunches too (take some sliced chicken and a couple dollups of the salsa and roll it in a wrap, or cook up some brown rice, mix in the salsa and have a quick, healthy lunch).
* if Ii have the time and i'm feeling motivated, I'll roast the peppers and the corn on the grill first. this takes a lot longer though because they have to cool down before you can mix everything together.