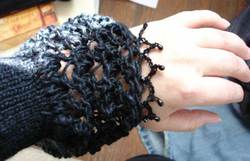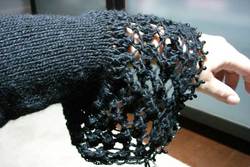 I've always planned on a bell sleeve, but I wanted something more than just a widening sleeve at the edge.
After trying a few different edges, I decided on the lacey one you see here. It's a messy lace, in a good way.
I've been dying to use beads so I picked up a few varieties this weekend. I crocheted a couple of edges on the lace, and I'm leaning toward
option B
(on the right). They've both similar but I like B because it's sturdier. I think it'll be fun to wear with the weight of the beads and the strength of the crochet.
There's this nagging part of me that wonders if it's too much. I'm keeping things as is for now, and I'll see what I think after the second sleeve is done. It's so easy to rip crochet that I'm not too worried about it if I do want to remove it.
The way I figure it, I have about a week left to finish. If I can finish the cap this week I should be safe. That'll leave the arm, the crocheted edging, and about 50 more ends to weave in over the weekend.