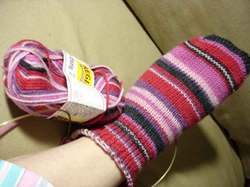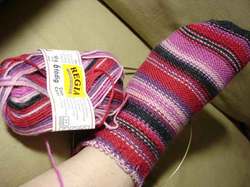 I started these socks almost exactly 2 years ago
. It was the first sock I made in DK weight yarn and I ended up sizing it a little bit too small. So the almost-finished sock that I posted about in 2004 has been hanging around since then.
With the start of Octoberfest I got my motivation back. I started on it this morning and I'm already past the heel. Damn, DK-weight socks knit up fast!
Last time around I used a plain st st foot and a k3 p1tbl leg. Now, after several projects with variegated yarn done in rev st st, I decided to try it on the sock as well.
It's certainly busy, but the yarn was busy already. I think it's fun and I'm keeping it.
I just started the leg and I'm doing
a simple slip stitch rib
. It won't roll but it also won't cinch in much, which was what I was hoping for.
The yarn is nice — Regia Crazy Colors — but the yardage is a little light. Each 50 gram ball has just 125 meters. After knitting about 2 inches of the leg I have just 18 grams left. So the leg won't even be as long as my foot.
On the plus side though, the sparse yardage will make for a really quick FO.