I changed my mind on the yarn I'm using for Arwen. The Aurora 8 was stuck in customs so I went down to Rosie's yesterday where Carol helped me pick out a great replacement — Queensland Collection Kathmandu Aran.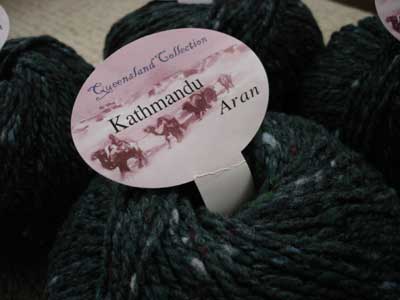 Replacement is really the wrong word, because I'm *much* happier with this yarn than my original choice. I think the less vibrant color suits the design better, and I've been wanting to try this yarn (or the Jo Sharp Silkroad Aran that preceeded it) for a few years now.
The color is a beautiful, shadowy shade of blue and green. I'll be swatching and casting on today. This rainy weather is a perfect stay-in-the-house-and-knit kinda day.