Each year around Christmastime, I try to pick a single project — something special — to work on during my time off. This year, my last workday is Dec 20th, and I don't return until Jan 3rd.
I only have a couple days of activities planned, and that's the way I like it. I'm counting down the days to being able to wake up, curl up in my leather chair, put on some Tivo'd Christmas specials, and knit knit knit.
But I don't seem to have THE project in mind for this year. The one that comes the closest is Pewter Coat by Shirley Paden (IK Winter 2006).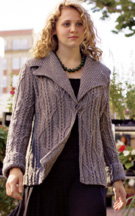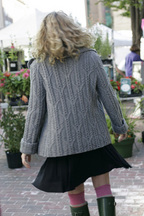 I *love* the lapels, and the gray color is perfect for going with so many outfits. No, there's no chance I'd make it out of 100% cashmere yarn, but finding a substitute shouldn't be too bad.
The sizing is a little awkard. It comes in a 40″ and 50″ (probably because it was easiest to layout the cables that way). So some thought on how to resize it will be necessary. Of course, that's after I figure out how wide I would want to make a knitted outwear piece.
I like the design a lot but I'm not 100% sold on it yet.
Another that comes to mind is the Tweedy Aran Cardi.
Barbara's
and
Ei's
are gorgeous.
Hmm…it seems like I'm obsessed with cables. Well, I do really enjoy them — but they're not a must.
So, I'm looking for ideas. Things you've seen in magazines, as free patterns, pattern books — whatever. If I like the pattern I'm OK with tracking it down via a library *cough*Starmore*cough*, but I need to make sure I have my yarn and pattern in hand by the 20th, and that's just over 3 weeks away (3 weeks!!!). I'm focused on sweaters — intricate socks or lace wraps are a lot of fun, but Christmastime knitting is all about the sweater for me.
So I'm looking for inspiration people. What do you think I should knit?