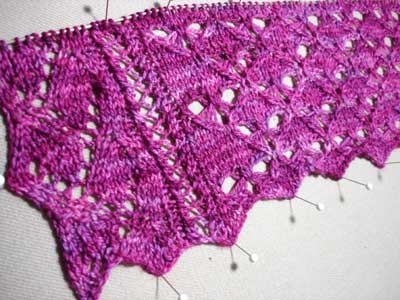 I wanted to knit something new after finishing the first knee high (I know, second sock syndrome…blah blah blah). I've been thinking a lot about the lace knee highs I've been planning to make with the
Sliver Moon Farm
yarn I got at Rhinebeck.
I started swatching and before I knew it, the socks morphed into
a wrap
. It's hard to pick up in the pics, but the center area's pattern gives the outlines of hearts. I wish I could say I planned it that way, but it was really just dumb luck when I combined the stitch pattern that way.
I've only frogged a half-repeat to change around the way the pattern works. I'm fighting my urge to change it again.
Christy
has been really helpful in pointing out my obsessive nature when it comes to designing something myself. I'm trying hard to just go with the flow and let this one happen, but I'm not convinced that I've picked the right border. The center motif feels too angular in comparison to the wavy edges*.
I could always cut the yarn and knit up a couple repeats with another edge for comparison.
I know…I'm hopeless!
* I wrote this post on Friday night, to post this morning. Now that I'm able to look at the pics with a fresh eye, I like the border more. Maybe it wasn't such a bad call after all.