Last year I finished a pair of socks over Thanksgiving weekend.
This year, I finished one really long knee high.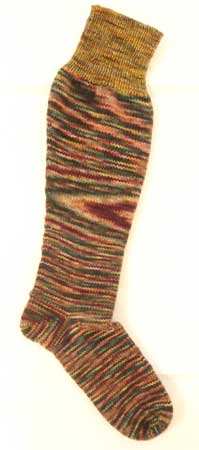 I learned a few things about STR Medium weight. The ball band suggests 8 SPI. 8 stitches per inch made for a very thick, very stiff sock. After knitting the foot at 8 SPI I considered selling off my STR stash because it was
that bad
.
Then I was over at Margene's, and
she mentioned the same thing
. Well, the next day she wrote that many people suggested going up a couple needle sizes. I gave it a try.
much better
It's knit at 6 SPI but it's plenty dense, and wonderfully springy too. I am really curious if the 8 SPI is a typo. I don't see how that could be the recommended gauge.
I split the hank so I could use up every inch of yarn. When I finished the STR, I switched to a complimentary color of Koigu and 1×1 rib, and finished off with a tubular bind-off. It's the biggest sock I've ever made and I love it.
For scale, here's the
full shot.
More from savannahchik.com