I swatched and washed the Kathmandu yesterday. It took several tries before I got the gauge right.
This stuff blooms *a lot*. The recommended needles are 5 mm / US 8. After washing the swatch on those needles, I got 3.75 stitches per inch. Uhm, not even close to the 4.5 listed on the ball band.
I went down to a 4.25 mm / US 6 to get that gauge post-washing. I really didn't mind though — I prefer the feeling of smaller needles in my hands anyway.
Several of you commented that the yarn bloomed when washing and stretched when wearing.
Since I was between sizes, I went with the smaller size. It should be about 1.5-2 inches smaller than the cardi I'm measuring against (a favorite from Banana Republic — no I didn't knit this one!) when it's washed, so if it stretches a bit I should be OK.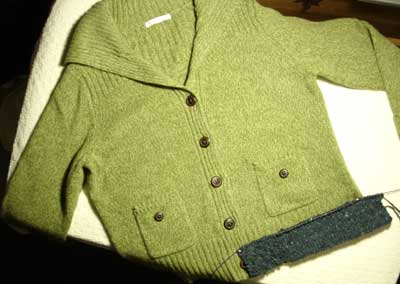 Do you see what I see?
Here, take a closer look.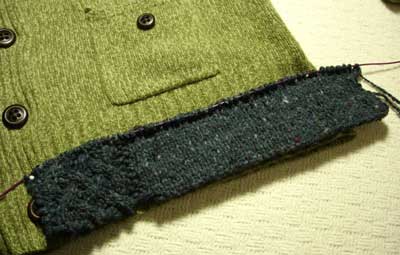 And no, it hasn't even been washed yet.
What gives? Well, it took me a while to piece it all together. I think I knitted my swatch tightly when trying to get the gauge to go down to 4.5 stitches per inch. But when I'm just casually sitting and knitting, I'm knitting at my more normal tension. The yarn is just about 4 stitches per inch.
This just isn't going to cut it.
Since both Jacqueline and Julia mentioned that the yarn stretches out with time, I don't want to knit it so loosely. I'm going to have to experiment a bit more and see what I can come up with.
For those of you who have used this yarn — what gauge (post-washing) did you get? What kind of needles did you use?