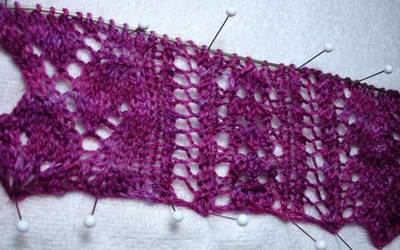 You knew I wasn't done messing with this pattern, didn't you?
The more I thought about it, I became convinced the center and the edge were both pretty, but not together. I decided to keep the edge and swap in different patterns for the center.
I've always loved vine stitch, so it wasn't much of a leap to add that in. I swatched several patterns, but vine stitch won because it created wavy lines but the edges are straight — it didn't compete with the waviness of the edge.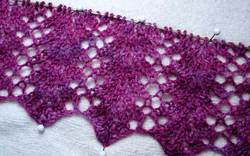 I also added in a little flower bud flanking the center. Although I didn't know it at first, this wrap has a strong garden motif — the center vines, the flower buds, and the leaves on the edges. I'm dubbing this one
Botanica
, although it's just a working title for now.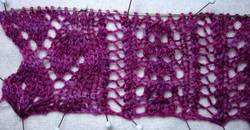 On a side note, photographing lace is
hard
. Between the shadows and the eyelets taking the focus, as well as the difficulty getting correct color during the short sunlight of late autumn, these pics leave a lot to be desired. The lace looks much prettier in person.
And now that I've settled on the stitch patterns, I'm going to take a break to make a quick little something for my nephew.