Even though I haven't had much time to knit, I did get a little something done.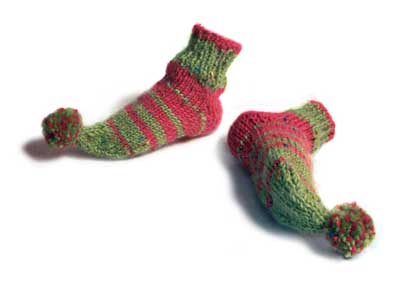 No I didn't knit these.
I did the tech editing. They're Kate Gilbert's latest —
Lise booties
.
This is a seriously clever pattern. The whole bootie is knit in the round, from cuff to toe. No seaming, no picking up stitches, nothing. The shaping is adorable and the way it's knit is so smart. So much so that I would ask Kate to edit my patterns (if, you know, I got off my butt and published any).
I showed my brother and he already requested a pair for my nephew (with a jingle bell instead of the pompon). Bonus — I can use up some scraps too.
I'm even tempted to make one with a longer leg as a Christmas decoration (maybe with some fur around the top?).
So, if you're looking for a quick and unique baby gift, or you know an adult who'd appreciate wearing something a little whimsical, this is the perfect pattern.