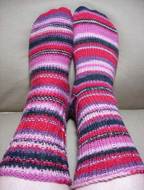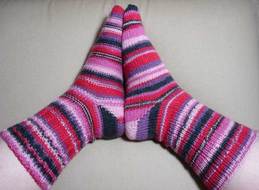 These simple socks are over
2 years in the making
. And now that they're done, there's really very little to say about them.
Yarn
Regia Crazy Stripes (6 ply variety) in color 05402 (Passion)
Pattern
My own toe-up with short row heel and
Judy's magic cast-on
. The cast-on is my new favorite for toe-up socks. For the leg I did a simple 2 row slip stitch rib — round 1: k3 p1 and round 2: k3 sl1 wyif. They're reversible, although I'll probably wear them with the purl side showing most often. For bind off I did k2 *slip both stitches back on left needle and k2tog tbl, k1* (the bind off from the leaf lace shawl).
Thoughts on the yarn
It's thicker than most sock yarn I use, but I like it (for an occasional change). It's not very soft but I haven't washed them yet — they'll probably soften up a little. The yardage is a little light in these balls. I used every bit of yarn to get them as long as they are. If you have a bigger or wider foot than mine (women's US size 8, 8.5 inches wide) you'll probably want a third ball. The color repeats seem completely random, and even though I tried to choose a point to bind off where the yarn would remain the same color, the color changed about 10 stitches before the end on both socks. At least one thing matches on this pair of socks.