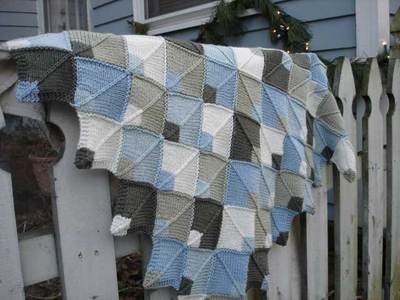 I'm ending 2006 with a bang.
Details
Pattern
Entrelac Throw from
Vogue Knitting Baby Blankets Two
. This is a great little book. I'm surprised I haven't seen more baby blankets knit up from this book. At $11 it's a great buy too.
Yarn
RYC Cashsoft DK and Cashsoft Baby DK in creamy white baby DK #801, light blue DK #503, tan baby DK #804, greenish-blue baby DK #805, and olive DK #516. I used just over 1 ball each (yes, *lots* of leftovers).
Needles
Addi Turbos 4 mm / US #6
Measurements
About 29″ square.
Modifications
Very minimal — I substituted Lion Brand Cotton Ease (at 16 sts per 4″) with Cashsoft DK (at 22 sts per 4″). I didn't do any extra squares so I got a much smaller blanket. Since I had a smaller gauge I did 3 sts in garter on the outer edges instead of the 2. I also mixed up the color combos because I didn't want the center to start out as a mirror image of itself.
More thoughts and photos behind the cut…

The color layout in the pattern is perfectly fine, except that I wanted the center of the blanket to have all 5 colors in it. If I were to do this again I would chart out the colors from the beginning. There were a few places where I have 2 squares stacked on top of each other in the same color. It's not terrible, but it was by necessity and not design.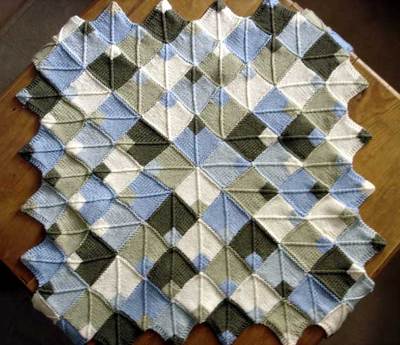 There are 84 squares in the blanket, and since each square is made up of 2 colors, that's 336 ends. Partway through knitting the blanket I began knitting in the starter end with the following row. This halved the number of ends I had to weave in.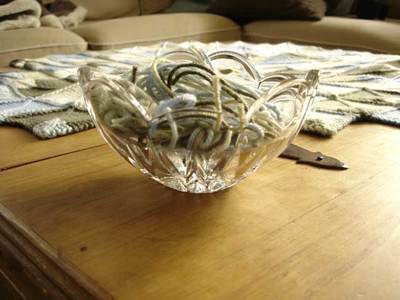 these ends are just from yesterday
Given how soft the yarn is I was concerned that the ends would work their way out. They weren't staying in very strongly even when I knitted them in. The yarn just does not stick to itself
at all
. But, after I finished I put the blanket in the washer on gentle (plus an extra spin to get it as dry as possible) and the ends fluffed up on the backside. I don't think there's going to be a big problem with the ends.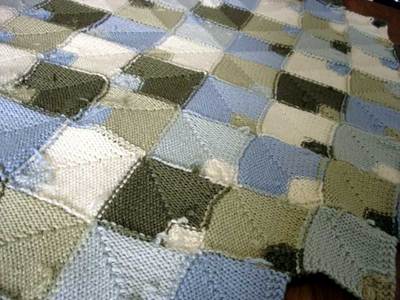 The edges and the lines were the things that attracted me to this pattern, and they're still my favorite part. Depending on how you look at it you see different shapes — diamonds and squares or shapes within shapes.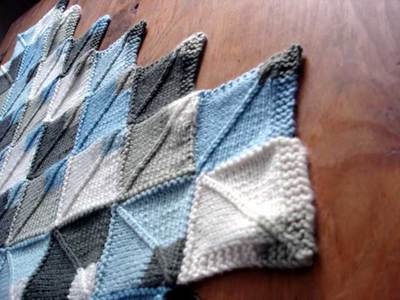 Final Thoughts
I love the blanket, but I didn't love knitting it. It's just not the right kind of project for me. It's
so repetitive
. Having said that though, once I met this little guy, there was no way I
couldn't
finish it for him. There's just so much to love about him — between his big toothless, open-mouthed grins, his crazy love for sweet potatoes (don't get between Alex and his sweet potatoes) or his hatred for all food that is green (he blows big raspberries so the person feeding him can get a taste of just how bad it is) — I just couldn't *not* finish it.
I hope you love it little man.