I took a class on Latvian Wristers with Beth Brown Reinsel at Loop yesterday. I've never taken a knitting class before, and if it wasn't for Liz suggesting we both take the class as a way to finally meet, I probably wouldn't have.
I'm so glad I did though — it was a great time.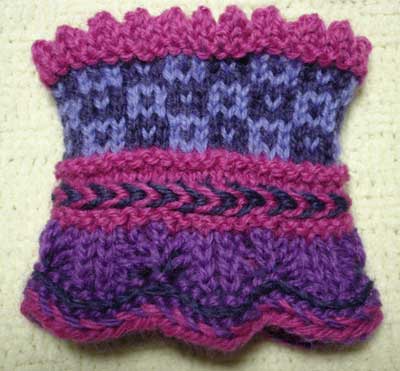 Firstly, it was great to meet (finally) meet Liz. We met for lunch at
Ten Stone
beforehand. Liz got there before me and was at the bar drinking a beer. At noon.
I knew there was a reason I liked her.
When class started they brought out a big basket of Brown Sheep Naturespun Sport. We each had to pick out 4 colors. I quickly (and without hesitation) picked out 4 colors and sat down ready to cast on. I randomly chose which color was which, without even knowing where they appeared within the wrister. I was giggling to myself, thinking how
Christy
would never believe that I made the decision so quickly.
If only I could do that with St. Brigid.
In case you're curious, the colors are:
Color A Peruvian Pink
Color B Purple Splendour
Color C Alpine Violet
Color D Plumberry
We started out with a 2-color cast on using the long tail method. One color made the loops and another made the bumps along the edge.
Then we went into a couple braids — a half braid in 2 colors, a half braid in 1 color, and a double (herringbone) braid in 2 colors.

| | |
| --- | --- |
| 2 color cast on and half braid | double herringbone |
We all went at our own pace, and Beth was great at handling 10 women at 10 different points within the wrister. She encouraged you to go as slow or fast as you wanted to, and sprinkled some history in with knitting technique.
It was a really good group (everyone had a similar skillset) so the questions were smart and thoughtful. If someone else asked a question I probably didn't know the answer either.
Beth also talked about how certain actions setup others. For example, on a herringbone braid, you do a setup row in the same colors as the braid. And that when you're purling, to think about where you switch colors so you get a solid or two-colored purl bump.
I haven't done much two-color knitting at all, so I seem to have mixed results. Yesterday's knitting looks better than it has in the past, although my tension is still too tight. See how hourglass the wrister is? It shouldn't be so curvy. Beth's was almost straight. The wet blocking did help a bit, but I still need to work on it some more.
After visiting
Katy
a few weeks ago and seeing Sue's (her mom's) Latvian mittens (thanks, Sue!), I was inspired to try some of my own. Hers were
so pretty
. After I got back home I went out and bought Lizbeth Upitis'
Latvian Mittens
. After yesterday's class I'm hooked. I
need
to make some Latvian mittens.
I just need to figure out how it fits in with the YFC. I don't think I have anything that I can use. I'm seriously considering blowing this month's allowable yarn purchase on yarn for Latvian mittens. Yeah, it's that bad.
BTW, I tried searching for sites online to demonstrate the cast on and the braids and couldn't find one. Is there one? If not, I might do a tutorial. Are you insterested?