As you all know, my big goal for my entire life this year is to be more reasonable in the expectations I set for myself.
I've made a real effort to stay true to this one — so far so good — but what's interesting is that I've found myself doing things and considering things I wouldn't have before this.
I was organizing my stash yesterday and came across lots of remnants and discarded balls from projects and ideas that didn't work out. At first I considered grouping them and selling them off — just to get the house a little cleaner. But then I realized how well it all fit in with a decision I recently made — to knit more for charity.
Kelly (my sister-in-law) gave me Knitting for Peace
for Christmas. I thumbed through it and found this hat that I adore. I decided I would make it for Alex.
ETA: I did not make this hat. It's a pic from the book.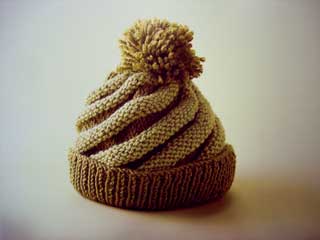 It has several cute and small projects in it (and some bigger ones too). I looked at it several times around the holidays and decided I would make a few things out of it for charity. They're small and quick so why not.

I don't wear hats, so I'm always jealous of you hat knitters. I just look horrible in hats. So while I was at the bookstore I also bought Itty Bitty Hats
.
So. Freakin. Cute.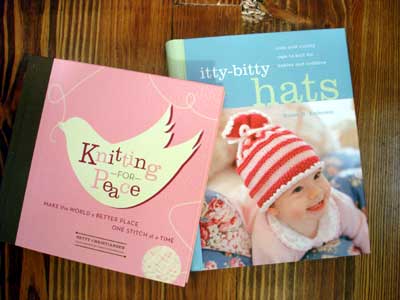 As I looked through Itty Bitty Hats I decided that many of them would be appropriate to give to charity too — either sized down for preemies, or to shelters in the larger baby and toddler sizes. Here are some of my favorites from both of these books.
note: Knitting for Peace has many non-hat projects. My selection is biased based on my hat-craze at the moment.
| | | |
| --- | --- | --- |
| itty bitty | itty bitty | knitting for peace |
| knitting for peace | knitting for peace | itty bitty |
| itty bitty | knitting for peace | itty bitty |
Truth be told, I haven't ever knit for charity. I always told myself I was too busy to take time out to knit for charity, and so I chose to donate money instead. While it's nice to donate money, I've realized it's even better — soul-renewing — to donate your time, and to knit love and comfort and peace into what you're making.
Here's a brief excerpt from Knitting for Peace (regarding the Shawl Ministry Prayer Shawl):
Because making a prayer — or peace — shawl is meant to be a spiritual practice, founders and shawl designers Victoria Galo and Janet Bristow encourage you to offer a blessing, prayer, or wish before you begin knitting, dedicating the work of your hands and your intentions for the receiver. You might also light a candle, play soft music, or even meditate.
That paragraph really touched me, and it's what finally did me in. I've already put some yarn aside that I found in my stash for a prayer shawl. It's a softly-colored wool and mohair blend that will work perfectly.
There are lots of charity knitting programs out there. Here are a few just to get you started:
There are dozens of not-for-profits that are near where we live — homeless shelters, women's shelters, hospitals, and programs run by local religious organizations. Find something that speaks to you, that touches your heart, and set aside a little bit of time each week. Not only will you be helping someone much less fortunate, but you'll be as fulfilled and renewed as the one who receives your gift.