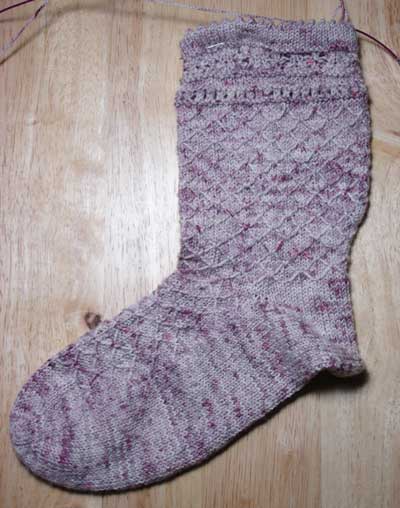 I've been in a girly mood lately. Can you tell? Smocking, lace, eyelets, picot. It's so girly it's almost too sweet.
The yarn —
Hand Jive Knits' Nature's Palette
Sock Yarn in the colorway Odd Duck #1 (Odd Duck indicates their variegated colorways). I bought this yarn at the Stitches 2005. A true stash yarn.
The pattern is something I made up as I went along. I knew I wanted the smocking, and then I wanted some eyelets, then some lace, and finally a picot trim (which isn't
quite
sewn down all the way yet). Here's a
closeup
of the top half of the leg. I'm very happy with how the different stitch patterns work with each other. The lattice reduces the stretch though, so the sock has about 10 more stitches than normal to compensate.
True knitter that I am, I finished knitting the sock on Monday, but it's remained in this partially-hemmed state since then. This is one of the rare moments when I think knitting a sock cuff-down is better — no picot edge to sew down, and kitchner is way more fun.