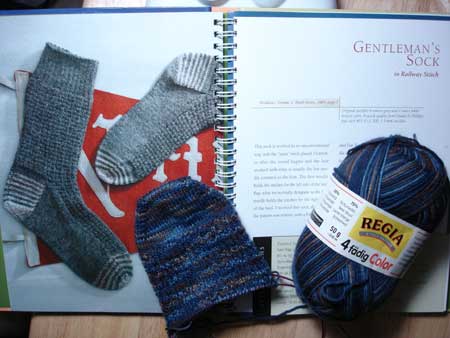 I've had a really busy time at work lately. I had to scale back my normal 1.5-2 weeks off at Christmas to just a single day.
The knitting time? Not so plentiful either.
While I have lots of ideas for sweaters, I just don't have the capacity for them now. But socks, they're just my speed.
After finishing the hem on my first
lattice sock
I went with something new. It's another long-time member of the stash.
I've been working almost exclusively with hand-dyed yarn lately, and this machine-dyed yarn is a nice change of pace. It's behaving so well — no pooling, no flashing. Hand-dyed is beautiful, but a little distraction can be a good thing.
Oh, about that lattice sock pattern. I've kept notes, and I'll probably release a pattern at some point. The lattice makes fit a bigger challenge (less stretch, but you still need a good amount of cling so the sock fits right) so I'll need to write up a pattern in several sizes and have it test knit first. Given my schedule I don't see that happening for a while, but if you're an experienced sock knitter and interested in test knitting it let me know.