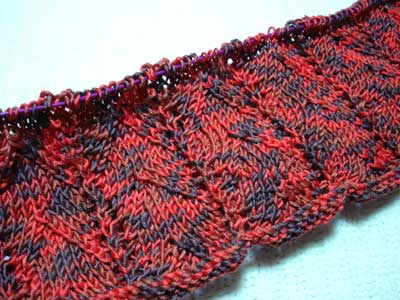 While I like both of the projects I wrote about,
the nightie
won. I really wanted to knit a little lace.
The yarn is MilleFilli Fine — in my stash for almost 3 years. It's very different from the called for Alchemy Bamboo — in color and texture — but I think it will work out nicely.
I made one mod so far — I've included side slits since I plan on wearing this as a top versus as a nightie. I used Annie Modesitt's i-cord edging. Here's the right and wrong sides.
It's nice and neat, and although I was worried it might be bulky — it's not at all. You might be able to see that I overlapped the i-cord edgings when I merged the front and back to start knitting in the round. I added a few extra stitches to each piece so I could do that when I merged them — I thought it would be stronger that way, and I think it's a pretty (albeit subtle) design feature.
I used a knitted (lace) cast-on. It's stretchy and decorative, although I'm concerned the edge might not block out straight. I noticed the pictured nightie has a slight roll to the edge.
I have a couple more mods planned — placement of decreases and modified depth of the back scoop. Both are straightforward and shouldn't slow me down. I'll have this done in plenty of time for MDSW, although the style is a gamble and I might not want to wear it. Still, it's a fairly quick knit so I'm willing to give it a try. Plus, lace knitting is a nice diversion.
When I first wrote about this top I thought I'd wear it over a top with short sleeves. Now I'm thinking it might be nice to knit some attached cap sleeves instead (maybe out of kid silk haze?). I'm still undecided and since I'd like it to look layered I won't have to decide until I'm done (I'd still want it to look like a strappy sleeveless tank over a short-sleeved top).