I sure am catching up on my reading! Did you notice the Vogue Knitting preview is out?
I'm intrigued by the cover's design — a little lacy number great for layering over a tank. The details are nice — a square neckline, the bell sleeves, and the band of lace around the arm marking the start of the bell sleeve's curve.
I think it would be equally cute if you converted it to a cropped cardi and stopped it just below the band that goes around the waist. How pretty would that be over a strappy sundress with a single button at the top?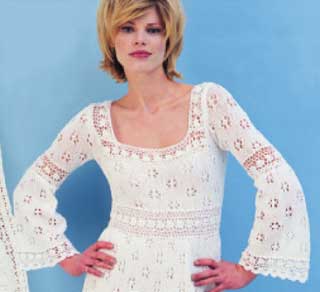 In addition to a focus on lace, they're on the nautical bandwagon too (who isn't?). In their Land Ahoy! story they've featured previews of 6 nautical designs, versus 3 previews for the other design stories.
The designs entitled Paper Chase seem to be more work-appropriate with a tunic, dress and a feminine cardi.
They also have a section called Baby Couture, although the previews don't seem all that special — maybe it will be more obvious in the magazine itself.
In classic VK style they also have a section entitled "The Easy Life" with some of the largest and more unusual garments you could make — full lenth halter style dress, very loose and unconstructed jacket, and a huge beach cover up. Easy life? Not for the knitter who has to drudge through hundreds and hundreds of yards of yarn just to make one of these!
I'm most interested in the Grace of Lace, Paper Chase and Land Ahoy! stories. Good thing it doesn't come out until the end of March — I might just have time to finish the nightie first.
BTW, thank you for your nice wishes and thoughtful comments about my wrist. It is indeed a
ganglion cyst
and fortunately the swelling has gone down considerably. I should be back to knitting in a day or two.