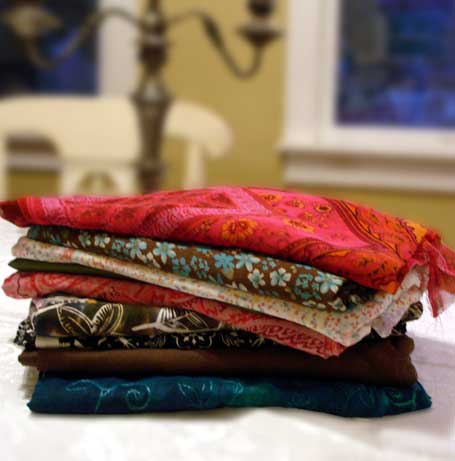 I've knit a few rows this week but not much. I can feel the strain right away so I know I shouldn't be doing it yet. I can't just sit and not create something though. I'll go stir crazy.
Enter my sewing machine.
I've been looking to update my wardrobe but I haven't had much luck finding things I like. So, I'm going to break out the sewing machine this weekend and make myself a few things.
The bottom 4 fabrics are for skirts. I have a few patterns in mind:
simplicity 5503 – I like the diagonal cut and the bias skirt. I need to find a striped fabric for it though so you can see the bias.
simplicity 7090 – Another bias-cut skirt, although I don't feel compelled to make it out of a stripe. The bias is as much for drape as it is for style
The top 5 fabrics are for tops. I've only found 1 pattern I like so far:
simplicity 4353 – A basic top. I like all 3 versions. It's also bias-cut for a little stretch and drape. Since I can't seem to find good knit fabrics that would work for this kind of top I went with a bias-cut one for a woven so I can keep that flowy feeling.
I should also admit that the nice thing about these tops is that I could knit a little shrug or short cardi to wear on top of it.
I bought these fabrics last summer and they've sat in the bag ever since. I also want to make a few client-appropriate skirts as well, so I'm going to shop for a few more conservative choices after work today. Skirts are so quick and easy and since I can't seem to find quite what I'm looking for, I'll just make a few.
Sadly, I may need to buy some shoes though. It's a burden, people, but somehow I'll manage.
yes, I promise to take pics if when I buy some
I feel so out of my element with sewing, which I find ironic since I used to sew all the time. Thinking back I believe the last clothing that I made for myself was (could it be?) my wedding gown. That's in 1997. Apparently that day was the start of the end of more than just my sewing hobby!
Now that I'm feeling the sewing love again I want to find a little more diversity– cool pattern companies, good fabric sources, and links to sewing blogs. I've found a couple but nothing much to speak of yet. Do you know any?