I go away for a week and there's so much to be seen! I'm still not all caught up, but there are a few things that have already gotten my attention.
A little bit of ugly
I've decided to rip the nightie. I've known about this for a good week but I just admitted it yesterday. The yarn is pooling in weird ways, making it look like an animal print. It's so not what I wanted for the nightie. I still love the pattern though — I'll just have to make it in something that's not from the stash.
Something New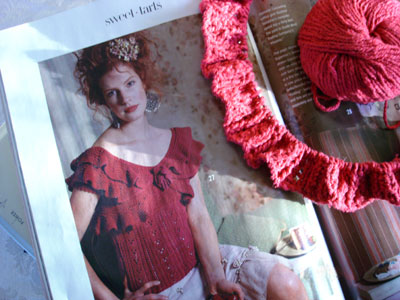 I decided to treat myself to some new yarn (my first purchase for myself since January 10th!). It's Classic Elite Classic Silk to make the Ruffle Trim Top from VK Spring/Summer 2005. I have a big complaint about this pattern — it's only written for one size (bust size 36″). From what I can tell there's no real difficulty in sizing this pattern. Since I'm way off on gauge I'm sizing it myself and it looks like it's going to be really easy. In case you're wondering about all those ruffles on me, I'm only planning on doing the one around the neckline. That's way too much ruffle and fabric for my shape.
Oh, and everything you read about this yarn from
grumperina
and
Lauren
is true. I washed and dried a swatch and it came out nicer than when it went into the laundry. It softened up (and it was soft to start) and fluffed up too.
I did a trial mostly because I was concerned about shrinkage (a lot of knitted fabric will shrink considerably in the length when dried), but it shrank a little less than I expected. A 2-1/2 inch swatch shrank to 2-1/4 inches after being fully dried in the dryer — that's a 10% loss in length. Width was virtually the same, although I was happy to see that the ribbing in the swatch scrunched up nicely and seemed to have a decent memory (very decent for a non-wool).
Still, I'm knitting this one a bit snugger with the expectation that it will stretch out. I'm hoping that my calculations work out. Since I've only knit less than 2 inches it's too soon to tell if I'm right, so I'm doing this thing where every few rows I stretch it out and measure a repeat and ponder if I should keep knitting, put it on some waist yarn, or ditch it all together.
you do that too, right?
At this rate it'll be
grandma's ruffle trim top
.