I sized the VK Ruffle Trim Top top to be just about the same width as my Somewhat Cowl (which still fits really well). The two yarns have a similar hand so I opted to make it a bit smaller than I would if it was wool because the yarn is less resilient and will tend to stretch out more.
Every time I'd look at it on the needles though I'd think "think is *so* small!".
So as soon as I finished the third repeat I put it on some waste yarn to try on.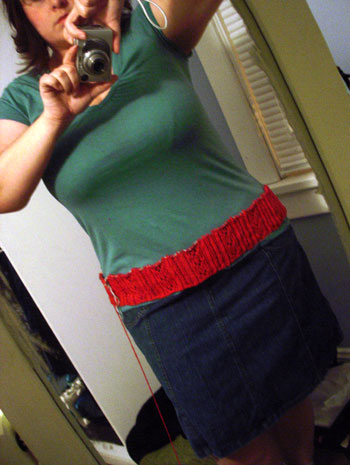 phew
It's perfect! It's not too loose, it's not too tight. It's tight enough to show off the eyelets, but still loose enough to not look stretched out.
The top is knitting up rather slowly. It's partly because it's in the round so I'm knitting twice as much for each row. But I think it also is the stitch pattern combined with the yarn. Usually I can knit by sight, but this yarn is making it more difficult. Its tweediness makes it hard to tell if I'm coming to column of 3 sts or 5 sts so there's lots of extra moments of pulling at what I'm knitting to better see what's going on. I also changed a single column of knit stitches to ktbl to keep it tighter. Sometimes I have trouble making a single column of knits look really good, and this yarn was about as bad as I've seen it in my knitting. The ktbl's are looking nice and tidy so it's worth the extra effort.
Still, I'm enjoying this a lot — and I'm hoping for an FO before my birthday in mid-April.
If I do finish it by then this will be the third year out of 4 that I've finished a sweater in late March or early April. Something about the weather warming up a little and the longer daylight during the week that just motivates me and keeps me focused. It's funny — if it wasn't for the blog I don't think I would have noticed that.