Like lots of you, I got the Berroco Knit Bits Newsletter on Friday and immediately fell in love with Wren.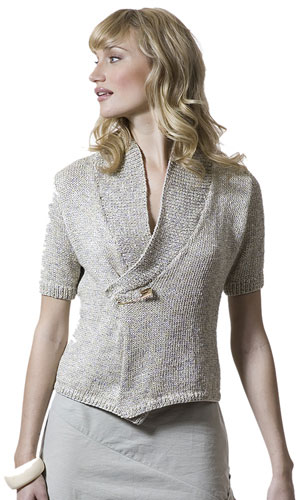 It's a super-wearable piece and the decorative pin is not only pretty, but very functional too. It gives you the opportunity to adjust the top to fit
you
.
Lolly loves it too
and
posted it to the Future Handknit Projects Pool on Flickr
. I think this pic has become the most popular one in the pool in just three days.
So, I'm not alone in my love for this top!
I'm considering using the called-for yarn — Berroco Zodiac — which just happens to be on
clearance at Webs
(thanks, Lolly!).
Last night I started to disect the design a little more and got curious about how they did the curvy bottom edge. Short rows? Cast on a couple stitches and increase?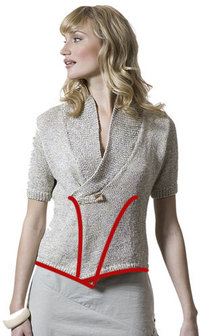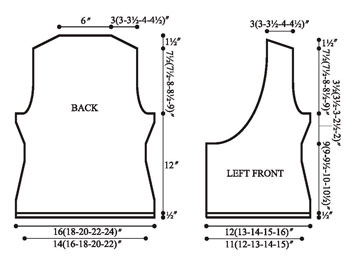 Hmm, no. The bottom of the front is completely straight. It's the combination of how the yarn drapes, how the top is pinned, and the curl of the straight stockinette edge.
Sizing this one is going to take some thought. The finished measurements are stated assuming an 8 inch overlap.
I calculated this by taking the finished measurement (I'll use the small size) of 32 and subtracting out the back width of 16. 32 – 16 = 16. So, 16 is the width of the front when worn. Each front is 12 inches wide. 12 * 2 = 24. So, in order for the front to measure 16 inches when being worn, they have to overlap by 24 – 16 = 8 inches.
There's no way that top is overlapping by 8 inches the entire way. The collar at its widest point is just over 5 inches. So the overlap is starting at 8 but quickly tapering to 5 and then down to even 2 or 3 toward the bottom.
I think the top is also stretching at the point where the fronts curve a lot (the curve will be stretchier because it goes at an angle across the knitting so it gains some of its stretch).
I'm not sure how I'm going to resolve which size to make. I might start with the back to see how the yarn drapes and stretches. I could use the armhole to somewhat mimic the curve of the neckline, and since the back is straight I'm less concerned about what size to make for it. It's the fronts that are giving me pause. If the piece is tapering out that much, do I even need waist shaping? Or, will the way the piece lays out give me the outward curve that I need?
This might be one that requires a little extra pre-planning and openness to frogging to get right. But, it's pretty enough that I think it's worth the effort. I mean, isn't that one of the reasons we knit in the first place? To make something pretty and different?