Another year came and went! It's interesting to see how my perspective on the festival changes over the years.
My first year, all I bought were 2 balls of Regia sock yarn. The two years after that were big splurge years. And then this year was more deliberate and subdued. Both made for a much smaller haul.
I only made 2 yarn purchases.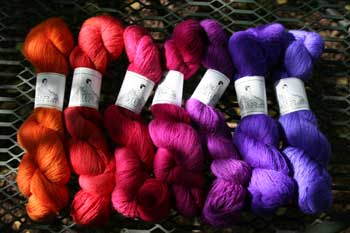 The first is several hanks of superwash lace merino from
Tess
. I don't have an immediate plan to cast on with this, but it's definitely an in-person buy. I must have spent a half hour at the booth selecting colors and choosing between dyelots until I got just the look I wanted. Most of the hanks are somewhat solid but a few have 2 similar colors (like the gold/orange one on the end). I can't wait to see this knit up.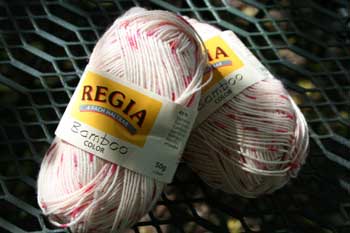 My final yarn purchase was 2 balls of Regia bamboo. I fell in love with
Maud's socks in this yarn
and have been looking for it ever since.
Carodan Farm
had it and I scooped it up right away.
I like this yarn because it has some color variation to it but it should look good in a variety of stitch patterns. That was my goal this year — no yarn I can't make stitch patterned socks with — and I stuck to it.
I did get a few other things though.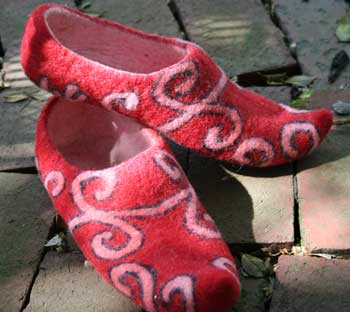 I got these fun felted slippers from The Textile Museum. I've worn them every day since the festival and they're great — comfy, warm, and the rubber bottom ensures I don't slide around.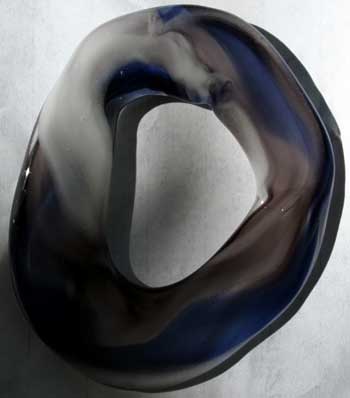 And finally,
a la Claudia
, a
Moving Mud
shawl pin that I plan to make into a pendant.
The best part of this year was by far
the company
and the people.
I got to see
Kristy's
new sweater in person (it looks great!).
I finally met
Ann
,
Ann
,
Stacey
, blogless Patty (hi Patty!) as well as a few lurkers (lurkers, where are you? please say hello more often!).
I also ran into
EyeKnit
in the Socks that Rock line (I was just keeping Christy company, I swear!), and
Liz
spotted us sitting outside the main barn just before she caught the
Rosie's Bus
back to Philly. I saw
Jessica
busy buying yarn and hauling a wheel (she swears it's not hers).
I'm sure I've missed a few people too.
I had a great time and I stuck with my goal of not buying much yarn. The things I got were either already on my list or unique enough to make it worth the purchase. I'll be adding these 2 purchases to the sidebar so I can track them with my goals for Rhinebeck as well.
Speaking of goals, I took the week off work and I'm working on
another goal
. Can you guess
which one
?