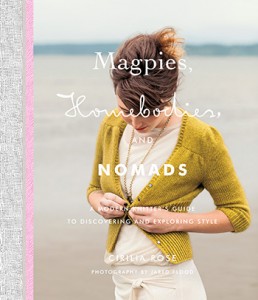 I published an interview with Cirilia Rose the other day.  It was a fun way to get to know the author – what's behind her designs and her approach to knitting.  It gave me a new way to look at the book.
Magpies, Homebodies, and Nomads: A Modern Knitter's Guide to Discovering and Exploring Style
26 designs
5 cowl/hats/scarves
4 hats
3 tanks/camisoles/tees
2 pullovers
2 cardigans
2 coats/capes
2 home decor
1 vest
1 bag
1 pair of mitts
1 pair of slippers
True to the title, Cirilia has amassed an eclectic collection of designs – cozy coats and cowls, sexy tanks and camisoles, playful hats and embellishments.  There's something here for everyone.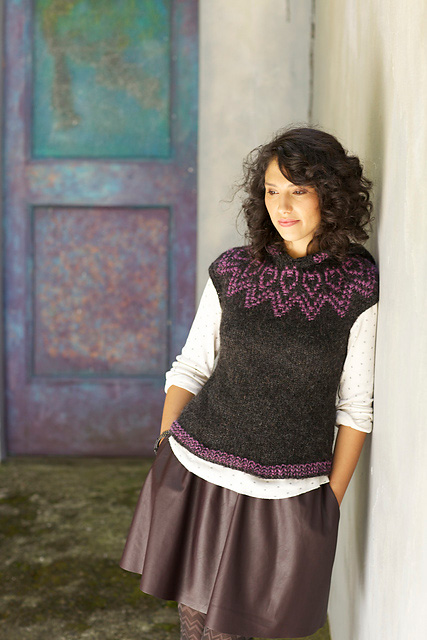 The Reyka pullover had me looking at sheepy, rustic wool again.  I love the "just enough" stranded knitting on the top and the lack of sleeves makes it more appropriate for wear indoors (and an excuse for another color!)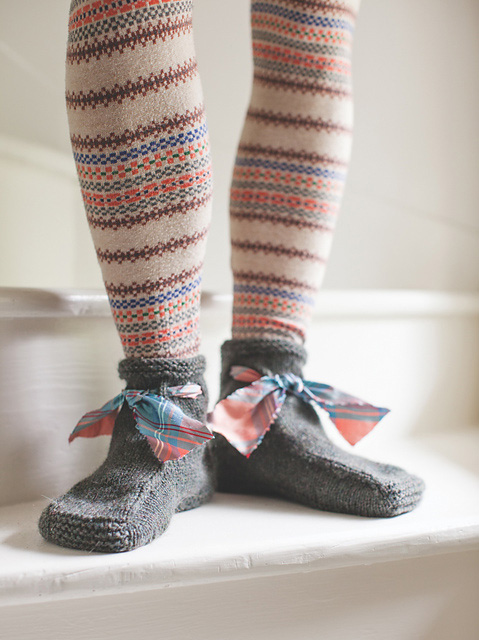 Then we have those slippers – THOSE SLIPPERS!  I'm not sure if I'm more in love with the slippers or the pic.  The slippers look comfy – easy to make, easy to wear.  The bow on the top and the leggings really make it though.  Now I don't plan to walk around the house with those on but the memory of that pic would make for a little bounce in my step as I walk around in my PJs.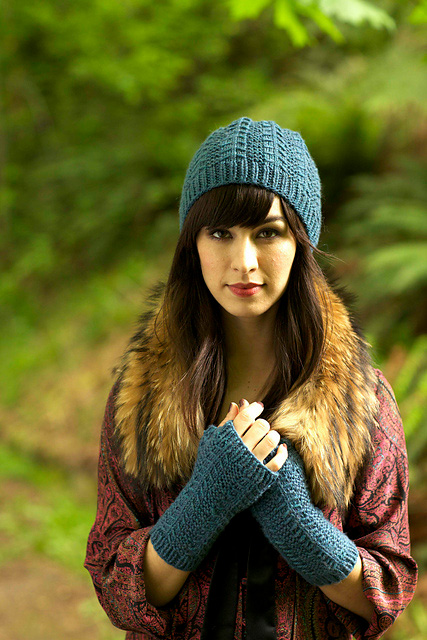 The L'arbre mitts and hat use a simple stitch pattern to great effect.  I love the matching look of the duo, and after reading her article on color I love how her lipstick coordinates with her top – it's a great contrast for the teal and a great look for her.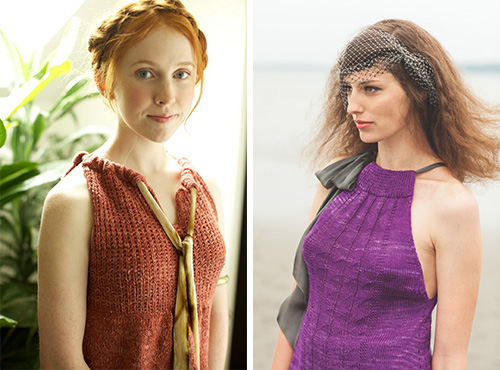 The Tisane tank and Garance Cami both have Cirilia written all over them.  Simple stitch patterns, interesting shapes and great details – love the use of the ribbons in both of them.
She gives plenty of details such as construction, special instructions, close up pics and detailed schematics.  It's clear that she and other knitters were a part of creating this book.
At a time where there are SO MANY knitting pattern books, the real gem for me is in the articles (I know, it surprised me too).  The tag line "A Modern Knitter's Guide to Discovering and Exploring Style" is apropos.  Cirilia includes 26 beautiful designs, and it would be a good book if she just stopped there.  But she didn't, and you should read the articles too.  Really.
Articles
Color Me Brave – teaches us how to see beyond those colors that always draw our attention
Think Like a Stylist – ways to get more oomph in our dressing
Surround Yourself – be close to smarter, more creative, more energetic people to learn from them
Substituting Yarns – she goes beyond the classic "find another yarn in a similar gauge" and talks about drape, gauge and needle sizes
Finding Myself in Iceland – Cirilia has a thing for Iceland and her description of it made me curious about this country I hadn't thought about much before this
Looking For a Come-Up – thrift store shopping and finding that awesome piece – you can even use it for inspiration for your knitting
Do yourself a favor – take a look at the book, the designs AND the articles.  I've had the book for a few weeks now and have referred to it many times – adding color to my wardrobe, having more fun with my garments, and looking at my stash in new ways.
The Giveaway
Interested in getting a copy?  Leave a comment with your favorite design or article and I'll randomly select one for the giveaway.
Give it a look and I'll catch you on the purl side…