Another great year at vkl for me and Christy. It didn't start out so awesome though.
We take the New Jersey Transit train into the city – we both get to sit and knit and we can even nap on the way home and dream about the new stuff we just bought. The train broke down on the way in though so we had to deboard (in 20 degree weather) and wait outside for 20 or 30 minutes. It could have been worse though. We could have been the guys with bikes who were told they weren't allowed on. Or we could have been back far enough in line that we couldn't fit and needed to wait for the next train. Those people probably waited a good hour outside. Our feet were frozen by the time we got on. The saving grace – at least it wasn't windy.
So we finally got on and got into the city – maybe an hour later than expected. No worries though. They didn't run out of yarn.
A few highlights…
Gradient yarns at Apple Tree Knits.  I went to the booth twice but left without buying anything.  Next year I'll look more at patterns that I could use with this yarn.  They have them in several lengths and I left overwhelmed.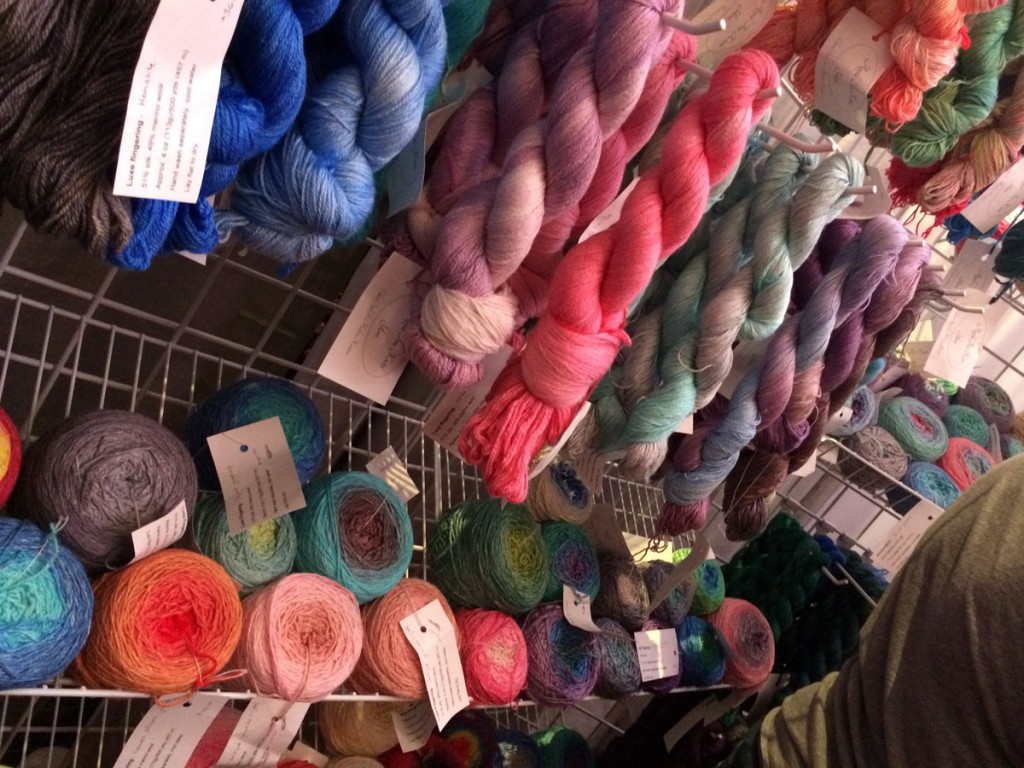 Cashmere yarns at Pepperberry Knits.  Oh squishy goodness.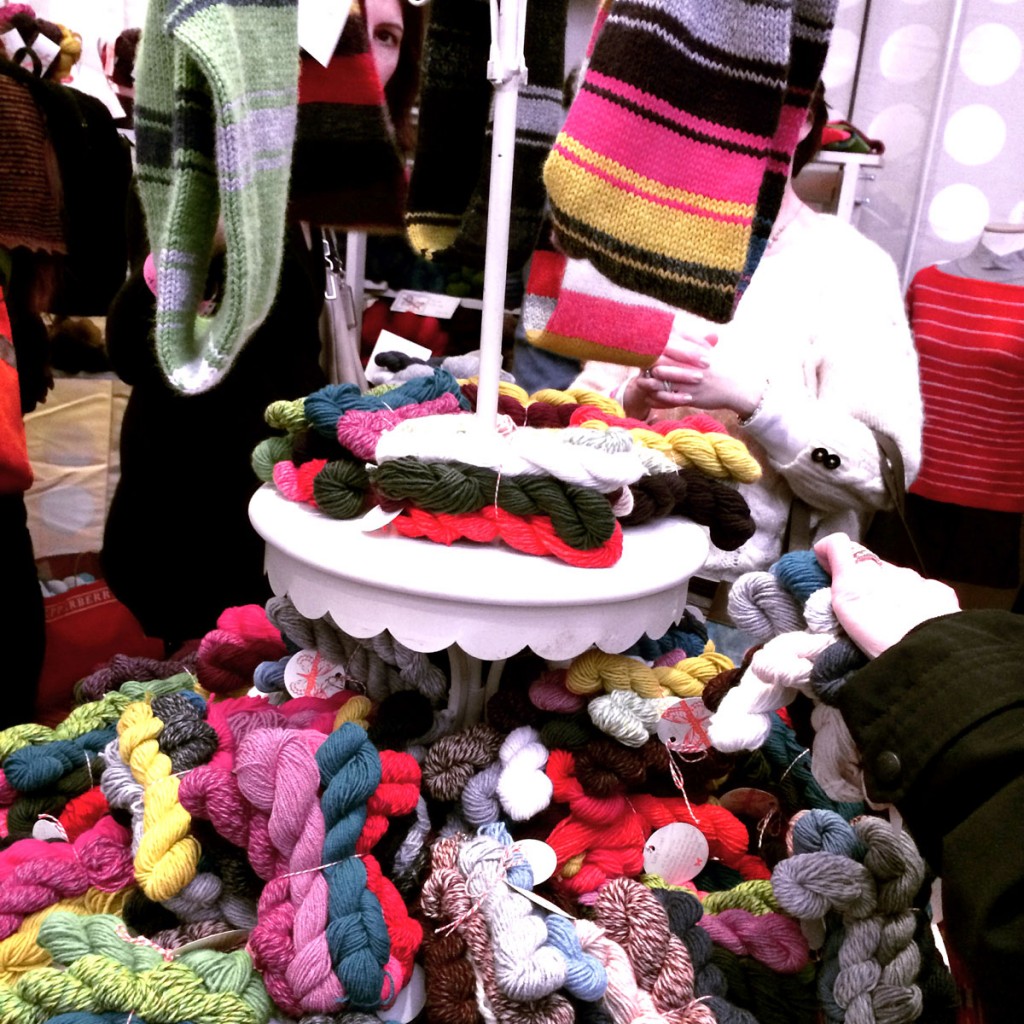 A beautiful poncho kit at Ewetopia Fiber Shop – you guys know I'm a sucker for a gradient – and now I want that damn poncho.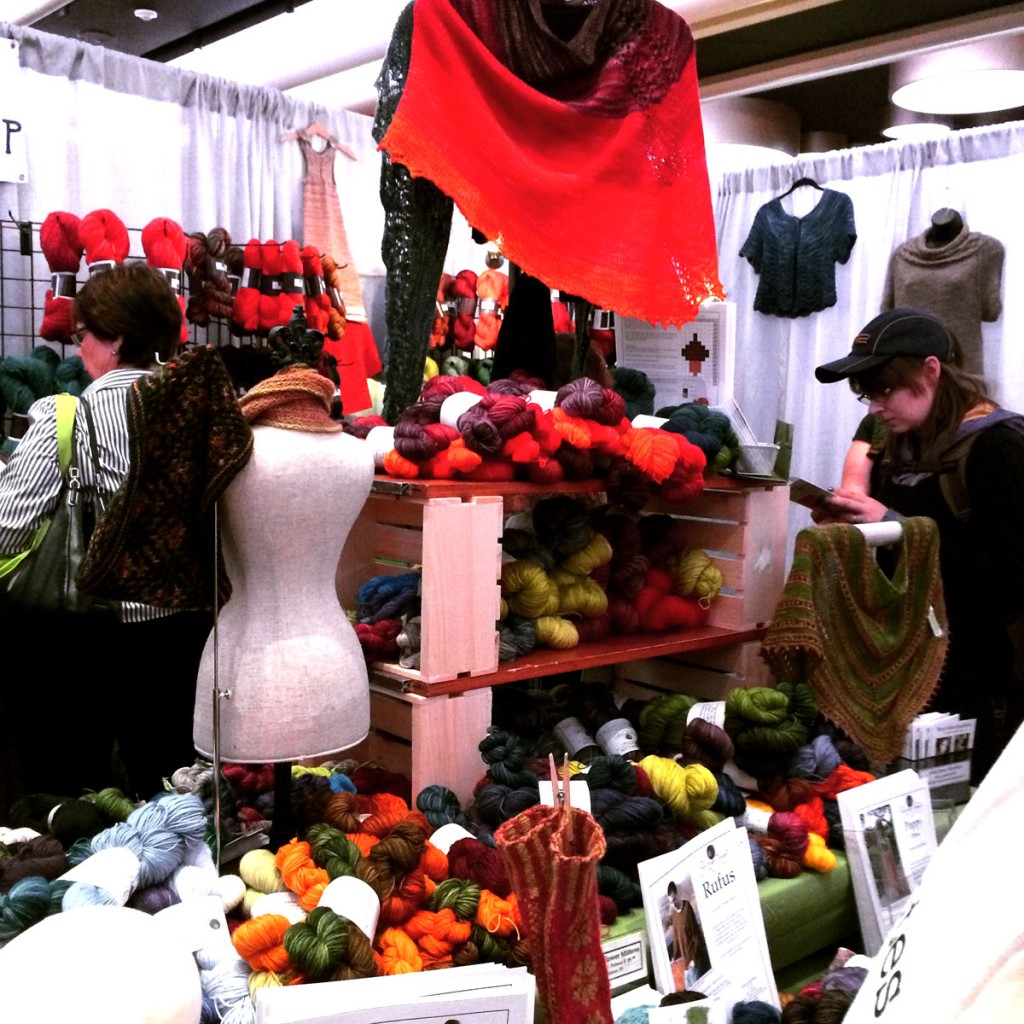 Gorgeous color at Dragonfly Fibers.  Absolutely gorgeous.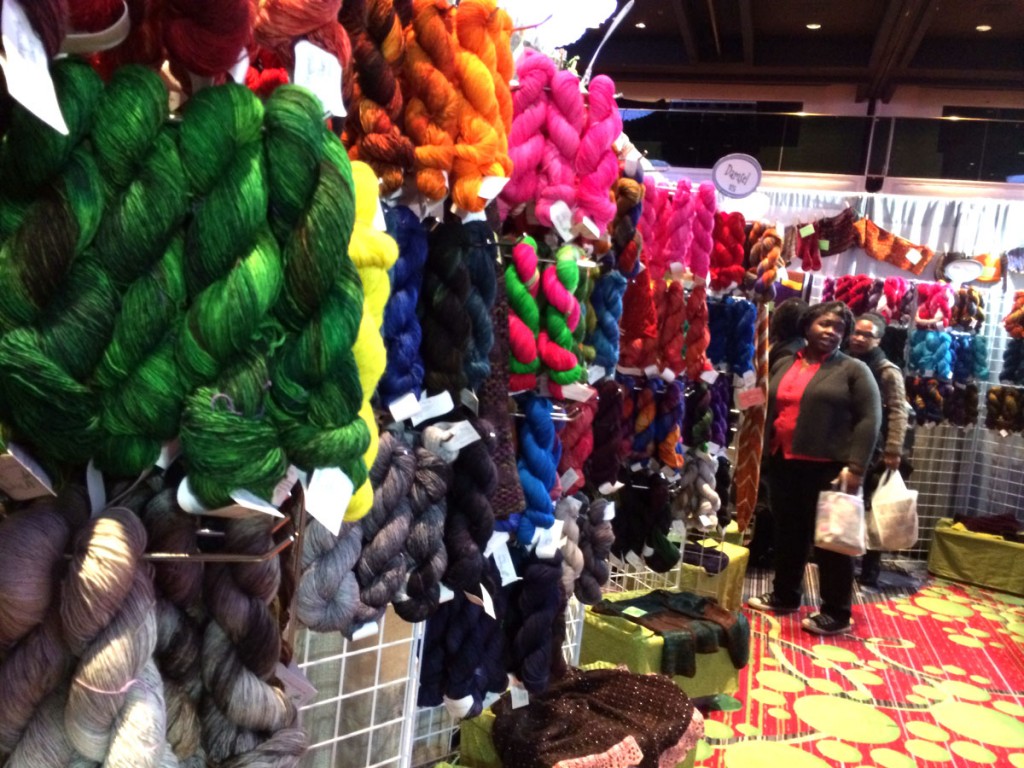 Our normal MO is to make one pass at the marketplace and then go back. And that's what we did unless we found something we couldn't live without.
Here's what I came home with.
3 skeins of Dragonfly Fibers Pixie in Red Bud for a Polaris. Look at those colors! All shades of pink with some darker purple bits.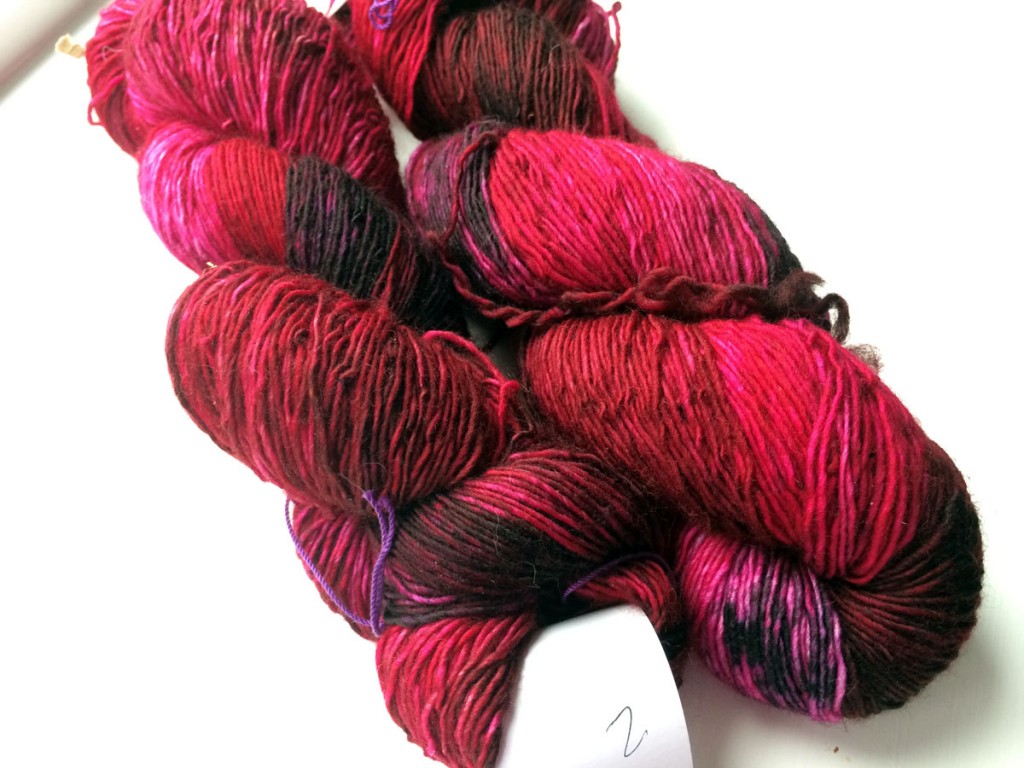 2 skeins of Damesl (also Dragonfly) in Aurora Borealis for a shawl yet to be determined. Love the dyeing and the weight.  The name seems off to me though – aren't Auroras brighter?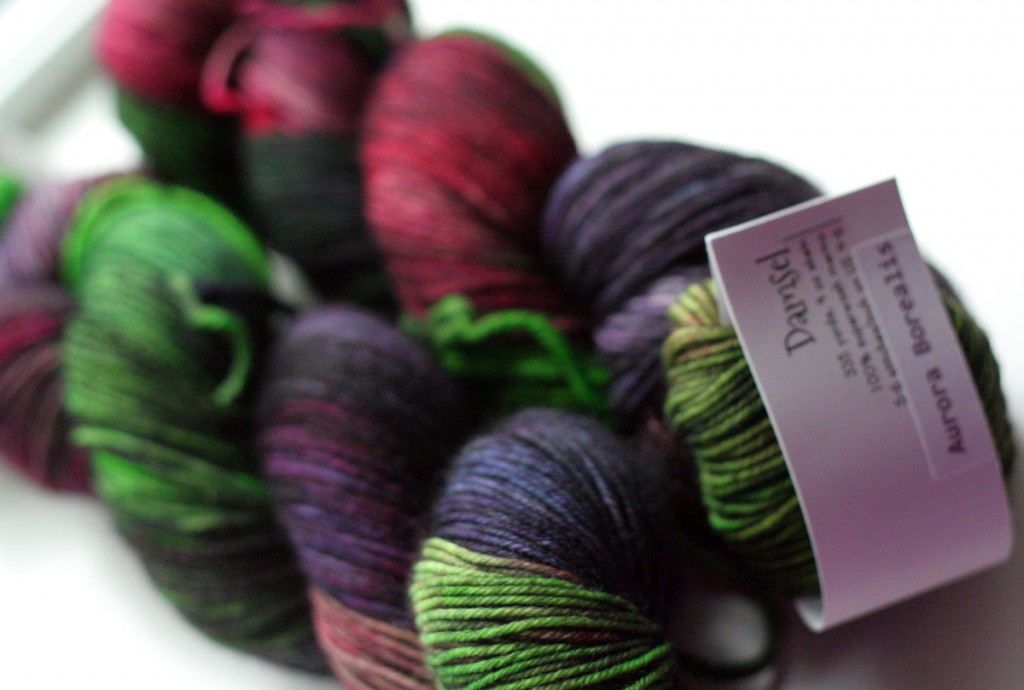 A fun pack of cashmere yarn from Pepperberry Knits. I got the Urbanite colorway for a cute stripey cowl.  Turns out I was really lucky – they don't sell the fun packs directly to the public on their site and my LYS is out of this colorway.  I went with some colors I gravitate toward (those pinks and burgundies) but I love the other colors too – teal and poison green.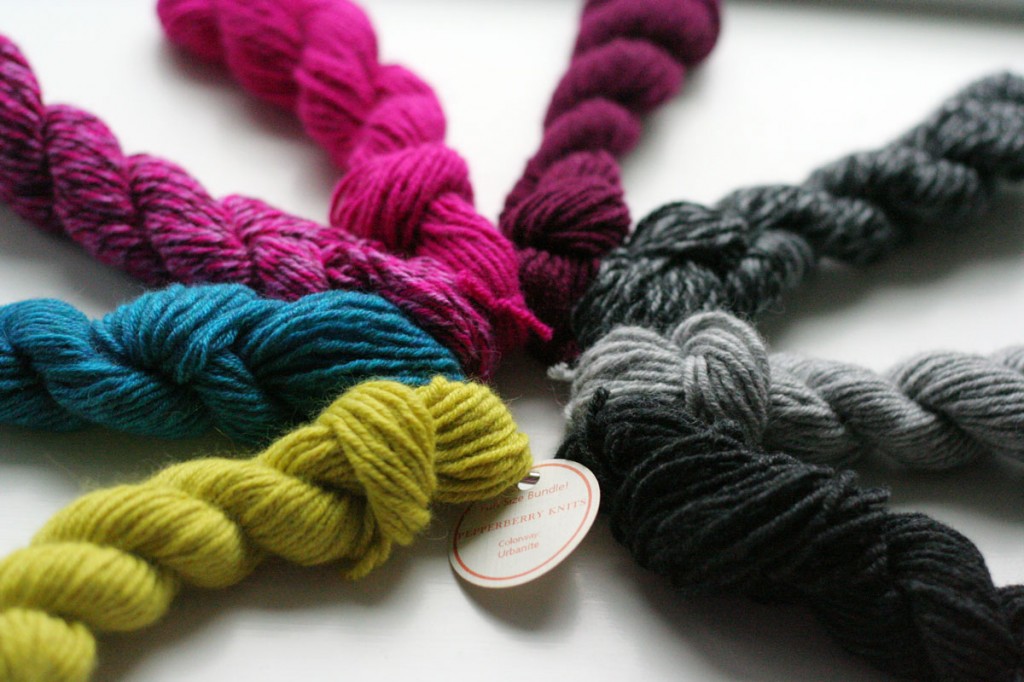 A skein of Stripey Sock in Tie Dye from Black Bunny Fibers. I keep changing my mind on this one. Socks? Shawl? Maybe one of those shawl-cowls? Who knows – but I like that I got out of my color comfort zone a bit.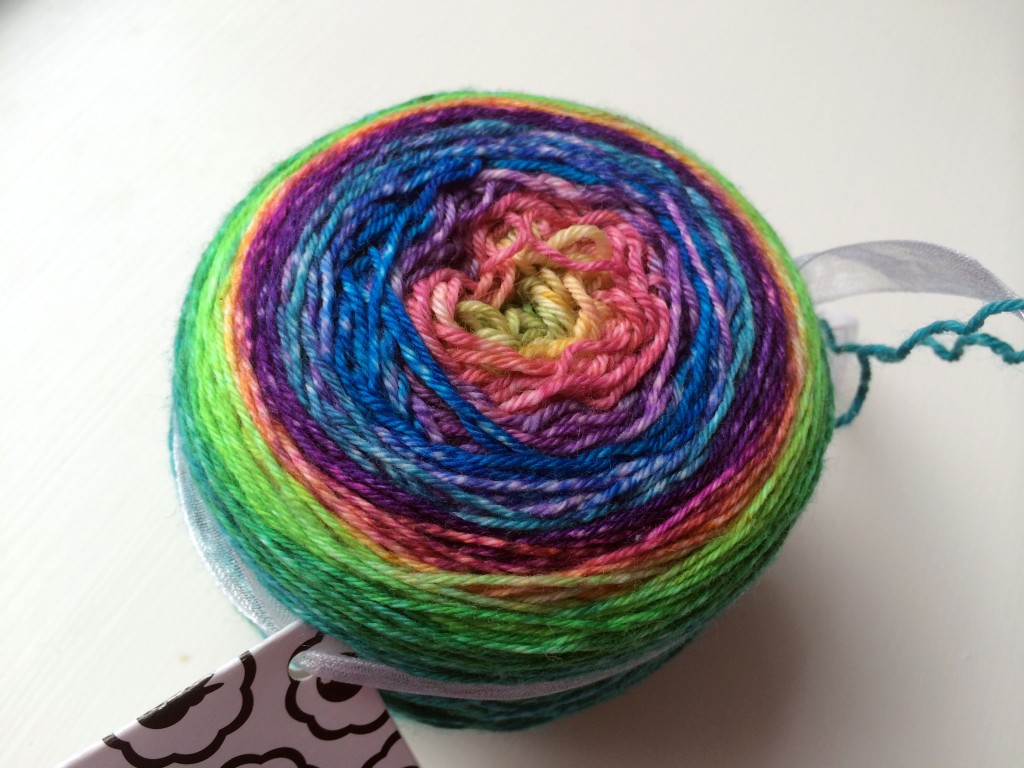 After shopping we sat in the lounge upstairs and knitted a bit before catching a cab to the restaurant for dinner. We timed this one much better than previous years and had a leisurely dessert before taking a cab back to Penn Station. And bonus – no train trouble in the way home!
If you went, what did you get?
oh and ps – I *finally* joined instagram (I know I know, just a tad late to the party).  I'm @knitnkitchen.  I'm still figuring things out but if you follow me I'll follow you back!
I'll catch you on the purl side…