At least, I'm realizing that sometimes it is for me.
Looking back on last year's knitting I realized – sometimes I start something just to see if I can.  I plot and calculate, determine yarn amounts and placement.  Knit a bit.  And then stop.
I've finally admitted that sometimes this is just what I need – and those projects are never really meant to see an FO state.
That's a big step for me – to admit that sometimes I'll NEVER complete a certain project.  Or maybe better put, that completing a project might not leave it in an FO state.
Coming to that realization has freed me with my knitting – and if you've noticed I've already finished more projects this year than last.
So you'll likely see some process posts around here that are all about some kind of challenge – how to make a yarn work, how to calculate for an in-between size, how to knit a funky stitch – something that makes the project a puzzle.  And when I figure out that puzzle I may just put it aside or even frog it.
Here are a few puzzles I've started recently (clockwise from 2 o'clock)…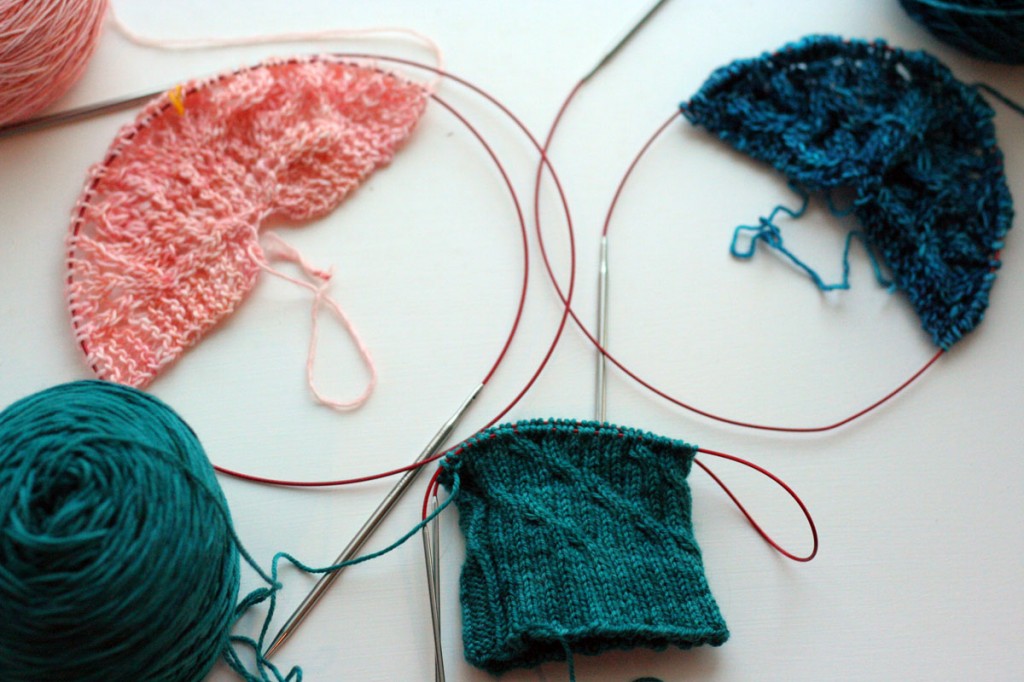 Echo Flowers (in blue TML)
I've been wanting to try Estonian Lace for quite some time.  I needed to see what all the fuss was about those flowers.  I'm pretty sure I won't be going ahead with this one though – I don't see having many opportunities to wear it and it doesn't feel like a good use of my time.
Budleigh (in teal Miss Babs Windsor)
The asymmetry or the twisted sts and cables got me and I love the color.  But I haven't picked it up in a month.  Still undecided on this one too.
Fossil & Bone (in peach TML)
This is a double whammy – I didn't know what to do with this shade of yarn and I wanted to tackle those nupps.  Now that I got through a full repeat I really like it and may keep going.
I've enjoyed what I've done on each of these and learned something new in the process.  Time will tell if you see these pop up again.
Do you ever do that?  Start a project just to see if you can?
I'll catch you on the purl side…