February always gets me with its short length.  It's already time to check in…
Goals – 2015
Knitting
Knit 6 pairs of Mystery KAL socks – I'm on schedule and finished the second sock at 5 PM yesterday – just in the knick of time.  I'll do a proper FO post but I did want to show you I'm really done.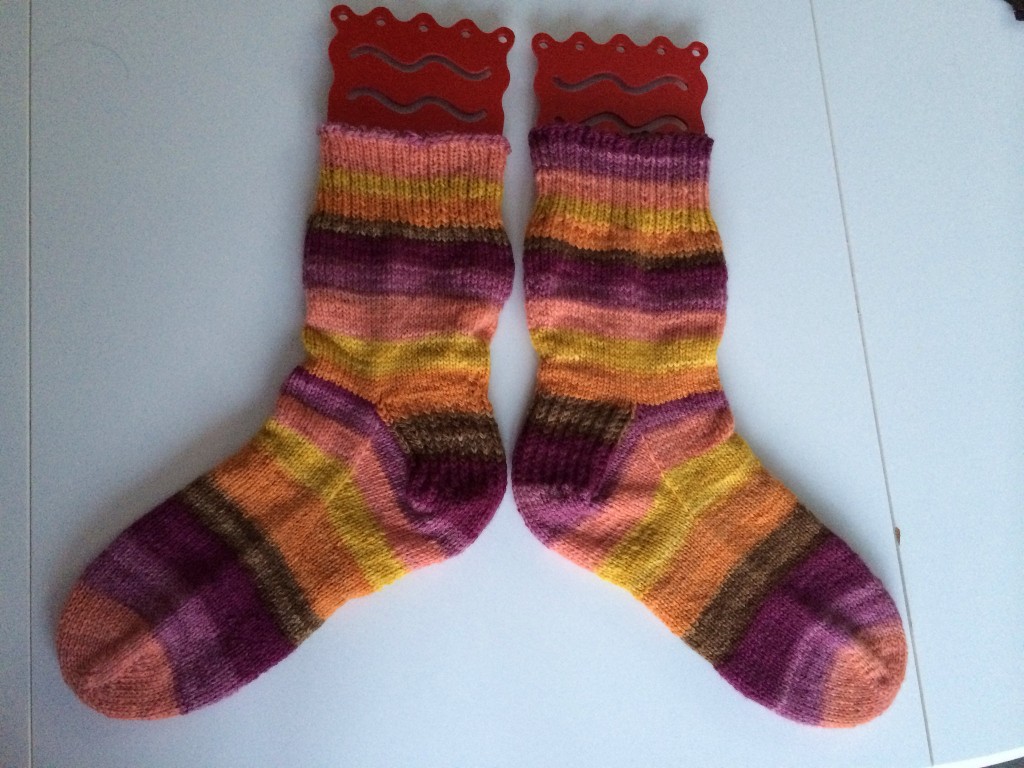 Knit 3 things from stash for the Stash Down KAL –  Done!  I finished my Wood Hollow mittens and handspun socks this month and my Weigh It Shawl last month.
Finish Paul's Chicago Bears socks – I meant to work on my handspun socks while in Vegas but brought the wrong needle size so I had no choice but to work on the Chicago Bears socks a bit more.  I'm just to the gussets.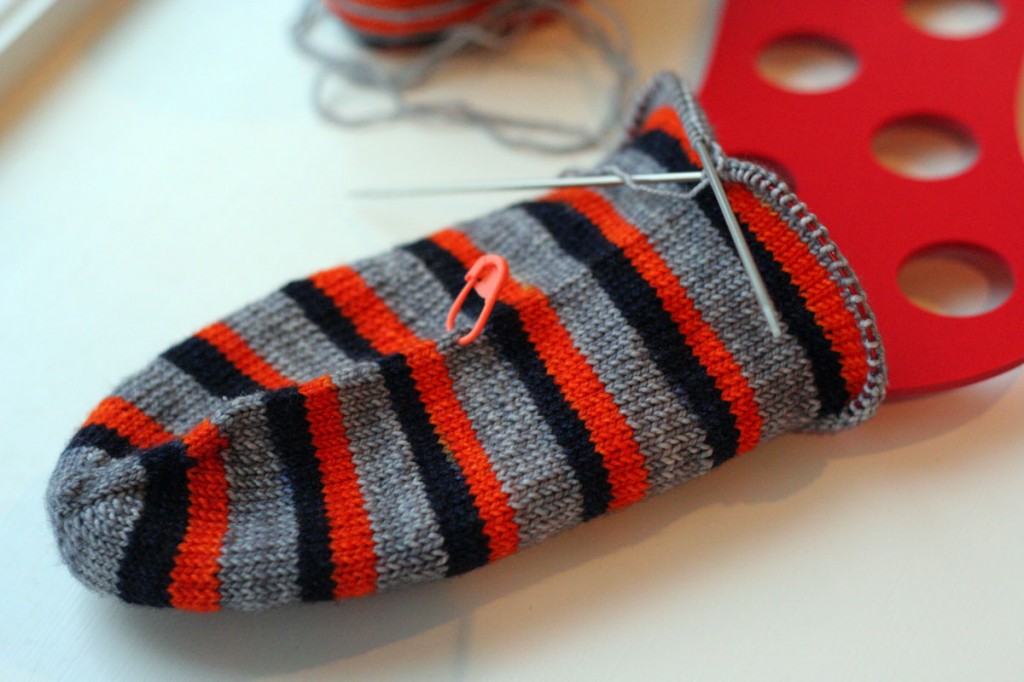 Finish Paul's Pismo hat – he loved his last one and he deserves a new one.  I guess I'm not too terrible of a wife because the whole hat is k1tbl, p1 ribbing.  Still no progress on this one.
Finish Raspberry Tart – I'm less than a full sleeve away.  Same here – nothing to report.
Add other colors to my knitting – yellow and maybe some blue or green.  I'm so happy that I made the Lucy Cowl and now I keep thinking of new color combos to add to my wardrobe.  I love it when one part of my life helps improve another.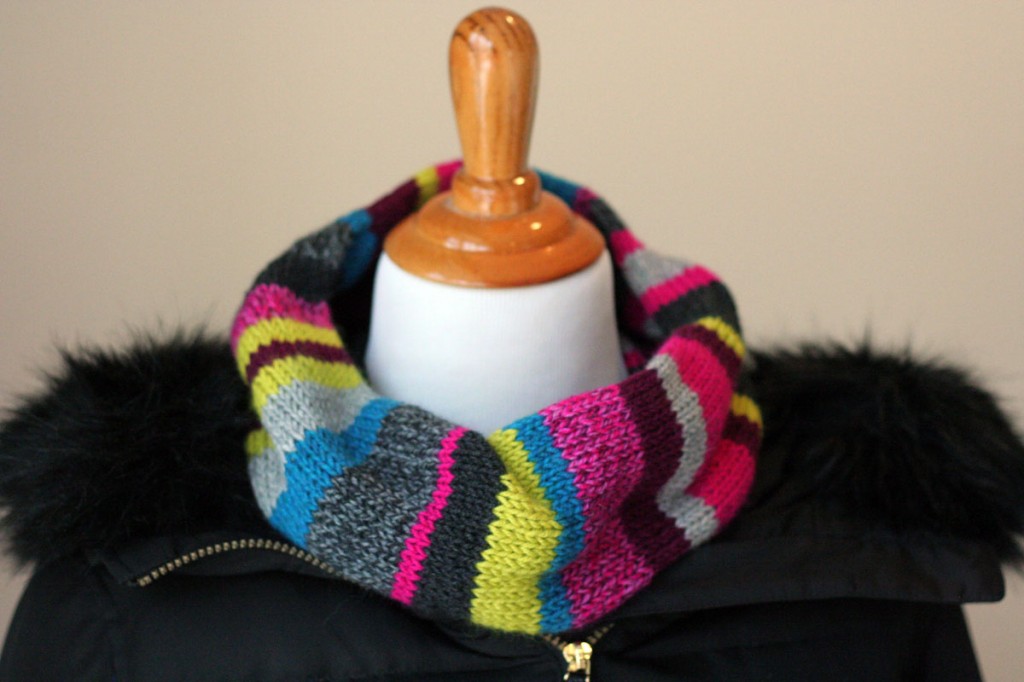 Blog
Post twice a week for the next 3 months –  I'm still at once a week but not giving up on this one.
Post more recipes and nutrition info – Posting recipes is a lot of work – photography and often several meals before it's just right.  I'll post as soon as I have something worth posting.
Make 20 comments per week on other blogs – Still need to get better at this, but I have started Instagram and like and comment on that a lot too.  And ps – you can often get sneak peeks at what I'm working on via my Instagram feed.
Personal
FitBit – I finally took it out of the package and I think I might be hooked now.  My goal is now 6,000 steps per day.  I've learned how hard that is for me to do with the cold weather and icy streets.  I've started housewalking just to get them in (although I'm only hitting my goal 2-3 days/week right now).  A few things I've started to increase the number of steps I get in are:

using the bathroom further away from my office – adds about 400 steps
take the long way back to my office from meetings
take breaks while knitting to walk around the house – I hit my goal yesterday even though I spent hours sitting and knitting
supermarket runs can add 1-2,000 steps!

Eat Well – I'm still enjoying lots of desserts and need to get back on track.
Lose 8 pounds – I gained 2 pounds this month.  I'm clearly not happy about this but interestingly, it WASN'T my trip to Vegas.  I was down 1 pound after returning from Vegas and I think I know why (thanks to my new BFF the FitBit).  I walked a TON in Vegas – and even hit my highest number yet – 11,000 steps.  This tells me I need to find better ways of staying more active in the winter months.
Goals – throughout the year
Check in each month – assess, acknowledge and adjust.  Doing it right now.
Make an editorial calendar – I haven't made a formal calendar but I have been working on plans for posts, interviews and reviews.
So, for February I think I did pretty well on the knitting front – 3 FOs  – and split on the personal goals – yay for the FitBit, boo for the eating and weight management.
March Goals
Make Sock #1 for the March Mystery KAL.  Sock FOs are so addictive!
Work on 2 UFOs
Really write the Editorial Calendar
Lose 2 pounds – I hope the weather starts to improve so I can get out and get moving.  And I'm going to need to do more housewalking if not.
I was tempted to put another FO on the list for this month but I'm not sure I can do it with all my personal commitments.
How are your goals going?
I'll catch you on the purl side…