Vicki has a spare copy of one of her IK issues and offered it up to her readers. I think it's a great idea, so here's mine. It's Summer 2004.
The front cover: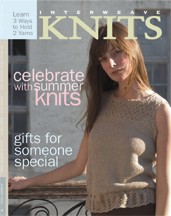 You can find pics of all the designs
here
.
Designers include Kathy Zimmerman, Shirley Paden, Norah Gaughan, Véronik Avery, Teva Durham, Annie Modesitt, Nancy Bush, and Beth Brown-Reinsel.
Articles include
Knitting out of the Pantry
which talks about nontraditional fibers such as hemp, bamboo, stainless steel, soy and paper;
Beyond the Basics: Working with Two Yarns
which details 3 ways to knit and purl with two colors.
Leave a comment by end of day Tuesday if you're interested and I'll randomly pick one!