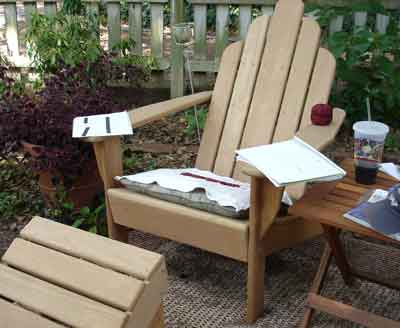 After the 100+ degree weather we had this week, 91 degrees today seems bareable — at least, in the shade.
I've spent most of my day on this chair under the canopy of trees. Even the little blue berries that keep falling onto my head aren't enough to sway me. This is the first weekend since July 4th that I haven't had to work, and I'm soaking up every minute of it.
Betcha can guess what I've been doing with my precious spare time today. It's lounghing on the chair. Let's have
a closer look.
It's my newest project — a little lace stole that I'm making up as I go. I want to design a more complicated lace piece, and I think this one will be a good tutorial in designing lace. I've just completed the border and am going to start the main panel. I've swatched already so I'm crossing my fingers that I've done my homework and this is all going to work out.
The yarn is Schaefer Andrea — 100% Cultivated Silk — in the Rosa Parks colorway. It has a lovely sheen and a real silky scent to it. When the sun peaks through the trees and hits the yarn I can smell the silk, and this pleases me much more than it should.
Perfect for a lazy Sunday afternoon.