sunrise in the North Atlantic
I'm back from the Caribbean. We took a cruise to the Bahamas, St. Thomas and St. Maarten. It was my favorite vacation ever. I am well-rested, well-fed and even a little bit tan.
And of course I fit in some knitting.
A few cruise highlights:
Drinking in Nassau at 10:30 am in an outdoor bar with the Atlantic washing under the deck.
Formal night — it's so much fun to get dressed up!
Surviving a crazy open air taxi tour in St. Thomas.
Drinking Ti Punch from Boo Boo Jam on Orient Beach.
Boning up on my geography. I now know where Mauritius can be found, and that Burma is also known as Myanmar.
Knitting — on the balcony, on the deck while the sun rises, on a lounge chair while the sun sets.
I didn't expect to get much knitting done — I thought it would be too humid. But the weather was perfect, and other than a 2 hour rain storm that opened up during our walk back to the ship, the sun was shining the entire 7 days we were away.
I finished the back of Norah Gaughan's Shell Tank before realizing I left the cable pattern at home. No pics — it's just a big black blob right now.
I also started Aranmor by Alice Starmore. I'm using Mission Falls Wool in a natural color. I've never used MF wool and am impressed with how soft it feels. An aran weight sweater grows quickly.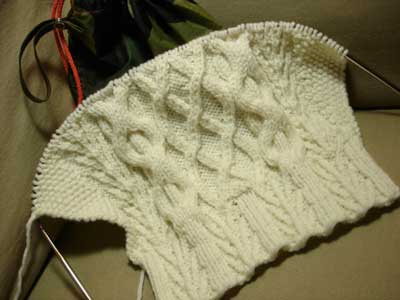 This will be a long-term project and I've given myself until October 2007 to finish it — before
Rhinebeck
would be great.
While I was away a lot of the warm weather patterns were released — IK Spring 2007, and
Rowan 41
. I have several that I really like and I'm not sure what to start first. I usually say I don't like to knit for the warm weather, but after the cruise I feel a new-found interest in knitting warm weather garments (which is a good thing since I have a lot more summer weight yarn in my stash than I realized).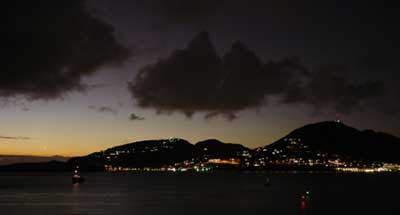 sunset in St. Maarten