A couple days ago I realized that MDSW is less than 2 months away.
joy and panic
Damn — I've only completed 1 FO with all the yarn I got at both MDSW and Rhinebeck. Not so good for the pact, huh?
a full list of my festival purchases can be found on the side nav of the home page
The bulk of last year's purchases were sock yarn. While I had plans for lots of socks, I knew I'd throw in a few other items too — scarves, a baby cardi, mitts…maybe even an insertion in a full garment for me.
The one purchase that is really bothering me though is the peach melba Tess sock yarn. I originally bought it to make my mom a pair of jaywalker knee highs but the pooling was so bad in that pattern that I ditched the idea. I tried several other sock patterns with no luck, so the yarn has sat there since the summertime and I've had no idea what to do with it.
A couple months back I read a blog post and found just the thing to work with my crazy-pooling sock yarn.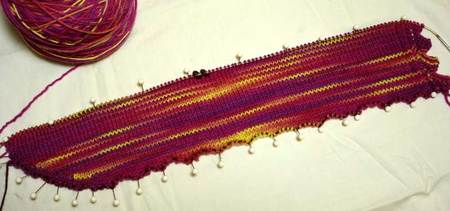 Any ideas what it might be? I'll give you a few hints:
It's for me.
What you see pictured is almost exactly 25% of the finished product.
The next 25% to be knitted is an exact mirror image of what you see here.
I'm following a pattern from a book you'll probably recognize but might not think of immediately. The pattern was designed for a popular Canadian yarn and I've had to adjust for a smaller gauge.
I've done a provisional cast-on along the bottom edge.