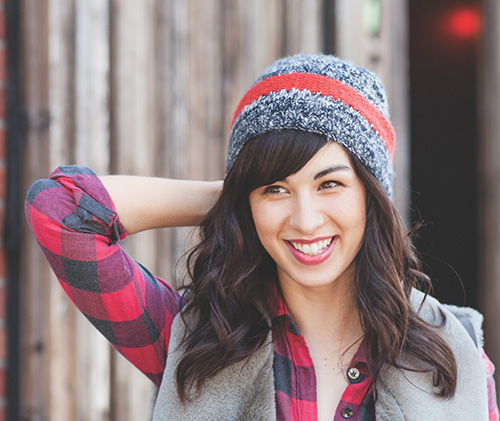 Cirilia Rose released her first book last week – Magpies, Homebodies, and Nomads: A Modern Knitter's Guide to Discovering and Exploring Style
 and she was kind enough to let me ask her a few questions.  I've enjoyed watching Cirilia's career blossom – at Webs, Berroco, Scakel  and now at Zealana.  The articles in the book give us a glimpse into Cirilia and made me want more.  Who is this woman who grew up in the military, is obsessed with Iceland and how does she get her eclectic inspiration?
Your childhood must have had a big impact – being a military kid and soaking up local culture. How do you think it shows itself in your aesthetic?
I think most military kids will agree that the lifestyle is a blessing and a curse. Moving so much made it easy for me to acclimate. I feel like I attain "local" status very quickly because I'm constantly seeking out the things that will make me love a place. I'm a born researcher and seeker, that's impossible to turn off and can lead to "full brain" syndrome, as I'm always taking in every detail. The curse comes into play with the lingering wanderlust. I'm always restless for new experiences and views, but thankfully a museum visit or quick trip will satisfy those urges.
What is it about Iceland that you love?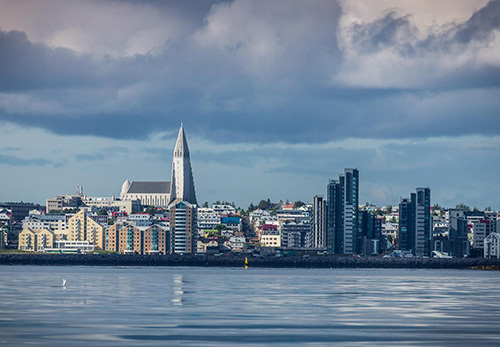 Oh, so much. I write about it in the book, but there are always new reasons. Life feels pure and elemental there. There is a lot of passion, it's just taken as a given that you feel strongly about something dear to you, and that's often something artistic. My Icelandic friends are some of the most direct, honest people I know, but there's a poetry to the way they think, too. It could just be what I hear in translation, but they speak in an imaginative, beautiful way.
Beyond that, it's just so blustery! There is ALWAYS a need for knitwear, even in July. I don't get to keep a lot of my knits so I indulge at the Handknitting Association on Skólavörðustígur. My favorite cowls and scarves are handknit by locals, and I think I've purchased ones made by the same knitter a few times now, they include these cute cross-stitched labels with a number. I'd really like to meet that knitter, their color sense is amazing.
You're passionate about color! Your article on color resonated with me; I see color more fully now.  Do you have any advice for getting more color in our wardrobes?
I'm super glad to hear that! Color is super fun. That said, I'm in a super dark all-black phase at the moment. I still love adding crazy bits of color though. I've gotten into the habit of being a little impractical with the items you're usually supposed to buy in versatile neutrals–outerwear and shoes. My advice for that would be to not overthink it. If you have a positive gut reaction to an item, you're most likely going to have that every time, and others may respond in kind. The thought of putting on royal blue patent leather flats in the dead of winter sounds amazing, especially with an otherwise monochrome outfit.
If you're not feeling that brave, layering tees are a good way to revive things. They're relatively inexpensive and always available in a giant range of on-trend shades. I appreciate J. Crew for always including hard to wear eye-catching shades alongside the prettier standards. Wait for a sale and buy both!
I soaked up your article on styling. Any hints for the readers on how to style knits for regular wear? What about the perfect FO shot?
To be perfectly honest, I find it hard to wear handknits in real life! Maybe that's because I'm so used to having clips, pins, and time to get it looking exactly right. The handknits I wear most often fit me perfectly (which for me at the moment means slouchy as hell). I suppose it starts by choosing a silhouette and size that you know will fit into your lifestyle.
As for great FO shots, take a walk. I'm perfectly guilty of staying housebound or resorting to my mannequin for Instagram snapshots but the FO shots I love on Ravelry always make me wonder where the person is and how I can get there NOW. Street art and cool shrubs abound. Oh, and take a million shots. People like to tell me how photogenic I am–trust me, there are outtakes that prove otherwise. It's a numbers game!
I love that you mentioned fabric in your Substituting Yarns article! What's your advice for people wanting to knit outside the ball band? How should knitters treat a swatch after working it at a different gauge before deciding if it's right?
I know that Clara Parkes likes to pin a swatch to the inside of her shirt (or was it stuff it into her bra?…) to test the itch factor. I like to put it on my keychain for a week. This is usually because I'm testing a new yarn before it goes into production. I am looking for things like how it withstands wear and tear when I'm not treating it gently. You should absolutely wash your swatch the way you'll wash your garment, but beyond that, let it spend some quality time in your bag. You'll learn surprising things, and hopefully fall more in love with it.
You talk about your love for thrift store shopping. Any advice for the uninitiated (er, me!)?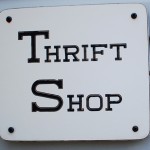 Try to go in with an open mind. You honestly never know what you're going to unearth, and that's the biggest draw for me. The time I found a vintage Sonia Rykiel, I nearly cried with joy. Another time I found a silk dress in a new to me label, which I later learned was Japanese and over $300. I stained it with pizza later that week, and wore it anyway until I accidentally boiled it in an Icelandic washing machine. Try not to be precious about your finds, either. Easy come, easy go!
What was it like to work with Jared Flood and Melanie Falick?
My knitting career has taken a very different track from many of my peers, and I've been utterly spoiled with having access to all the trappings of proper fashion photo shoots. I appreciate a DIY approach and the resulting look but working as a team elevates the work in a way that I love. Jared and Melanie are at the very top of their game and that compelled me to rise to the top of mine, or attempt to at least. I'm thrilled with the outcome.
What pieces might people miss if they casually thumb through the book?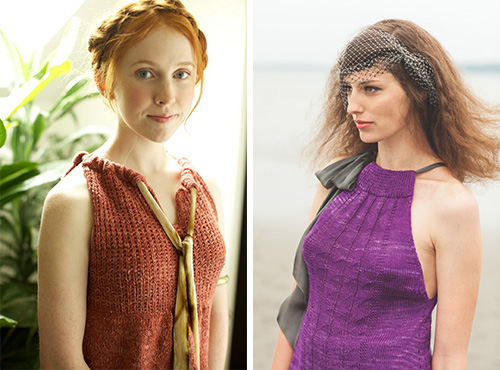 I love the Tisane Tank and Garance Camisole, and they are definitely fraternal twins. They may seem impractical, and maybe they are but they contain my design DNA through and through. They're easy knits with some slightly clever construction details, and they were totally dictated by the yarns. The cozy thermal knit and slinky silk piece weren't fully realized until I added the ribbon straps, which are endlessly adjustable for different looks. I LOVE shopping for notions, and I'm extremely picky. I tried many options before finding the "ones." They're impractical until you try them on. They both feel incredible in totally different ways.
If we take three things from your book, what would you like it to be?
Keep your eyes wide open.
Wear something ridiculous and fabulous and make someone smile.
Have fun, it's only yarn (paraphrasing my former bosses Steve and Kathy Elkins here).
Any final advice?
Don't be afraid of anything, in knitting or fashion. With enough confidence, you can pull it off.
The Review
I enjoyed getting to know Cirilia a bit more!  Royal blue flats may be in my future…
Stay tuned for a review of the book and a giveaway later this week.