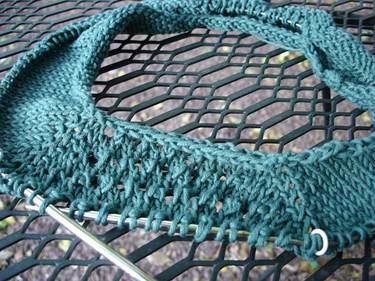 While ruminating on
Heidi
yarn I decided to go for something a bit different. The right Heidi yarn is out there, I just haven't found it yet.
While at the LYS this weekend I found some Classic Elite Four Seasons. Y'all probably know how much I love Brown Sheep Cotton Fleece. Well this might just be the classier cousin from up the road. The yarn has a bit more wool in it (30% instead of 25%) and the plies are much tighter. It reminds me of a slighter lighter weight All Seasons Cotton. The recommended gauge is 4.5 or 5 SPI.
This past week I haven't had much time to really knit (the yard project continues in earnest) but I have had time to play around with stitch patterns. The eyelets you see in the pic are for the sleeves. The front and back are plain — the sleeves give it plenty of interest. I have a little something planned for later on as well, but I haven't quite figured out the details so I'm going to hold off sharing it for now.
The gauge knits up really fast, and I'm hopeful I'll have this one off the needles before Spring ends (it's the first real spring we've had here in years, and I'd like to have another handknit top to wear during it).
Hmmm…me against mother nature. Care to wager any bets on this one?