I had a busy weekend, and hardly knit a stitch.
It started out Friday night at the Manayunk Brewery. It was the end of a loooong week at work and the weather was perfect for sitting out on the deck. For those of you not in the know, "perfect weather" not only means that it was breezy and in the 60s, but also that the creek the Brewery sits above had enough water in it not to be stinky. Those of you in Philly know what I mean, right?
Saturday I spent the day running a bunch of errands, and I fit in a stop at Rosie's. I thought I'd be picking up some Tahki Cotton Classic but they no longer carry it. Instead I picked up some Classic Elite Provence in color 2627 (a nice dark red with blue undertones).
I also got my package from kpixie. I wanted to try out a few more cotton yarns and they had a bunch I can't get locally. I got a skein each of lana grossa point (cotton with a bit of elastic in it), lana grossa stop (viscose microfiber blend with a nice hand), lana grossa toccata (sportweight mercerized mako [huh?] cotton), and karabella vintage cotton (a lovely mercerized cotton). I really like them all and I plan to place another order soon. They're just getting in their Lana Grossa line so a lot of the colors are not in yet.
Saturday night Paul and I spent in AC watching Dave Atell and Jim Norton. It was a decent show but Dave Atell had an off night. I could have left when Jim finished.
So this brings us to Sunday. The weather was beautiful (a little overcast and breezy, but still warm enough for outdoor work) so I decided it would be a great day to redo the front lawn. A quick run to Home Depot for some supplies and by 11am we got started. I estimated 3pm as quitting time, plenty of time to wash up, knit for a few hours and have a nice dinner.
Not a chance. More details and pics in the extended entry…

So, this is what it looked like at 11am: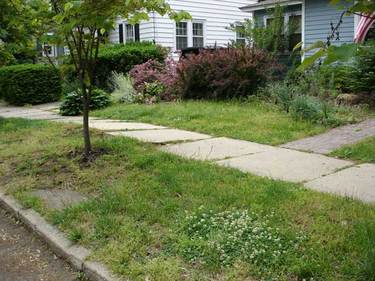 yeah, i know grass isn't supposed to have white "flowers" in it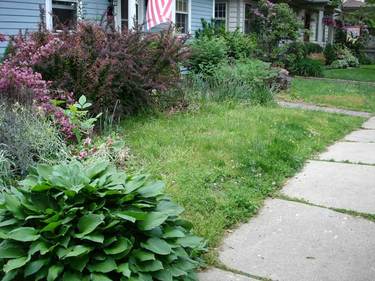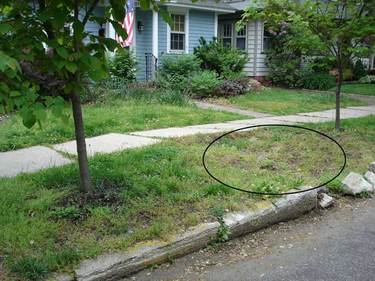 that circled area is where a 6 foot diameter tree used to sit
Paul dug out the old tree stump and I took the roto-tiller. After 5 hours (a 6 foot diameter tree, even 4 years post-removal, leaves a lot of roots behind) we had this…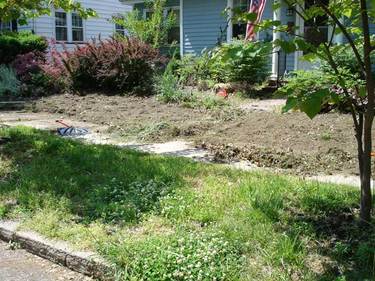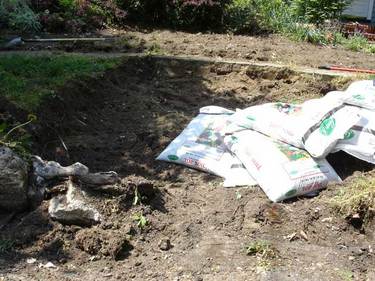 a 6 foot diameter tree leaves an even bigger hole
It took until 8:30 to finish, and with that we only got through the side closer to the house. The part along the street will have to be done next week.
And now, we pray to all the garden gods that this…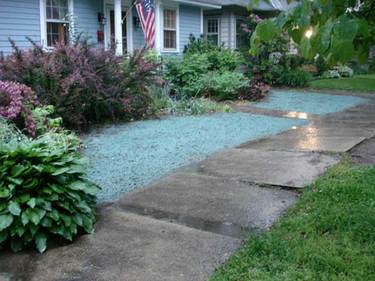 will turn into a green lawn in a few weeks.