I'm sure I'm tempting fate here by planning a wool sweater for Rhinebeck, but I can't seem to stop myself. Apparently I'm not alone.
Lee Ann thinks it's best to be safe and make both a sweater AND a tank top. Just in case.
She's my kind of girl.
And I just might have pushed Kellee into making a sweater too. C'mon Kellee…misery is so much sweeter with company.
As for my sweater, I'm still unsure about the yarn. More on that in a minute. A few of you have asked what I have planned. Here's the center motif I was talking about.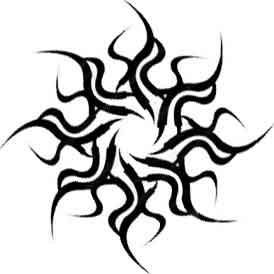 I played around with several tribal tattoos until I got the look I wanted. I've converted it to a knitting pattern with
KnitPro
and I started a swatch last night.
So, the yarn. I revisited the balls of Whiskey that I picked up and I've changed my mind. It's definitely a DK weight. I knit up a small swatch on 3.75mm needles and it was perfect. So, I'm swatching a portion of the motif to see what I think.
I'm still very hung up on color though.
Sometimes I think I want a neutral sweater and colorful motif (it'd be safer and I could probably wear it for many more seasons without it going out of style or my growing tired of it). Like maybe a dark gray and a black motif. Or a coppery brown with a turquoise/green motif.
Other times I think, go for something like a bright pink with a black motif and make a statement. It's at this point that I wonder if the statement I'm making is
knitter trying to recapture her youth
.
On a positive note, my
travelling
companions
wouldn't ever be concerned about losing track of where I was. On a negative note, with that sweater on they may just want to ditch me.
Maybe not though, since I will be the one driving.
So what're your thoughts? Neutral and safe? Bright and bold?
Oh, and to add to the mess, I think I'm dyeing my hair a dark black cherry for the fall. So it all needs to coordinate.