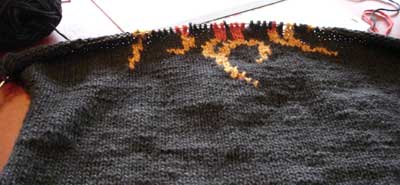 I worked on the sweater every spare moment I had all week. And yet, it just looked like a black blob. And even though a bunch of you emailed asking me about progress, I know you really weren't asking to see a pic of a black stockinette stitch sweater.
Finally, last night, I got to the moment
I'd
we'd been waiting for — the color! I was nervous and unsure the first few rows but I knit on. And now? I love it!
I know you're curious what I decided on for the yarn and the colors. I went with Noro Cash Iroha in black with 3 shades of yarn going from harvest gold to a dirty fuchsia for the motif.
I hadn't considered multiple colors for the motif until I received
Amy Lu's
comment about doing the intarsia Kaffe-style by cutting yard-long pieces of yarn. What an awesome suggestion! All along I thought I hated intarsia, but really, it's the fussy bobbins that I hate. I have at least 10 strands of yarn hanging from the back of the sweater right now, and I'm barely phased by it. The fact that it's just strands of yarn (and no bobbins to get all tangled up) has made a world of difference!
Thanks, Amy Lu!
More from savannahchik.com