I lied. There was one more purchase I made at Rhinebeck. It's Briar Rose Fibers Sonoma (80% wool 20% flax). I was drawn to the creamy flecks of flax and the gentle gradations of color.
It's just one hank — enough for a generous pair of mitts (up to the elbow).
I'm doing them fingertip to elbow to try and use up the whole hank (and now that I'm halfway done I think I may still have some leftover).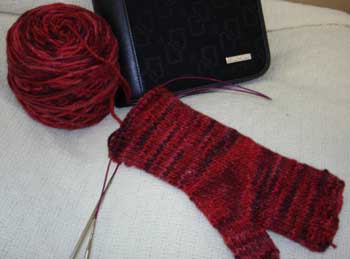 The other purchase? I finally bought some Knit Picks needles. I got the
Options Kit
as well as the
Classic Circulars
in the smaller sock sizes.
A lot of reviews have already been written so I'll be brief:
I love love love them
The super-flexy cable is perfect for magic looping
The join on the Options line is smooth and both a large gauge yarn (3.5 spi) and a very fine gauge yarn (10 spi) slipped over it without a hitch
The points are amazing and have the Addis beaten hands down
The needles are very slick. Both yarns I've used with them were wool. I haven't tried them with a sticky cotton-type yarn yet.
The needle case is well made and holds *a lot* more than just the needles
I have 2 small criticisms:
The needles have no indication of their size. It's easy enough to check with a needle sizer, but a little stamp at the base would be a nice addition.
There's no 2.75mm or 2.25mm (there are so few options for these sizes, at least in the US).
So that's my quickie review — great needles at an even better value. At 40% the price of Addis, with a slick surface, a more flexible cable, and a pointier tip, these are a fabulous choice.