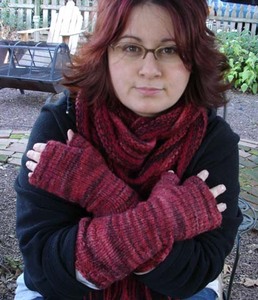 My first Fest FO! They're both simple — but very wearable — and have reved up my knitting momentum.
Pattern
: My own (if you can really call them that). See details below
Yarn
: 1 hank of
Briar Rose
Tuscany (80% Wool 20% Flax 245 yards)
Pattern Details
I did a basic hand warmer knit from knuckles to elbow. I wasn't sure if I'd have enough yarn so this way was safer. About halfway down the forearm I added some increases to go with the shape of my arm.
I finished the mitts on Friday night and I still had 40 grams of yarn left. I was surprised since the put-up was only 100 grams. I weighed the leftover yarn and the mitts — I got 125 grams in my hank!
Since I had approximately 98 yards left I decided to make a scarf too. I'm so glad I did.
I've been coveting those lengthways garter stitch scarves, so I finally made one for myself.
SO. EASY.
Here's what I did:
Gauge: 14 sts per 4 inches
CO approx 250 sts (I used the knitted cast on so I didn't have to fuss with approximating the cast on tail. I just counted as I casted on, and didn't go back to re-count). Love that.
Knit 2 rows in the Briar Rose. After I did that I re-weighed what was left. I only had enough for 6 more rows.
So I rumaged through the stash and found 5 other coordinating yarns. I finished up 2 partial balls from other projects, as well as using some yarn from a couple of single balls I had around when I ordered yarns online to try out their colors.
When I finished the scarf it was
very
stretchy. So I washed it and tossed it in the dryer for 15 minutes. When I took it out it was less stretchy, a bit denser, and a bit thicker. Perfect.
And the best part? I've completely used up 1 hank from Rhinebeck!