Since it's really all I do lately, I thought I'd share a few Knotions updates with you all.  The site is really taking shape and I've been doing some promotion work too.
Spring 2009 Issue is on the new platform!
This one is a biggie – it's the first conversion of an issue from old to new.  Everything's on one page, when you want to see a bigger image you just click on it and it comes up in the same window and there are PDF and print-friendly versions too.  Oh yeah and it's mobile-friendly too for smartphones, tablets and desktops.  Take a peek here.
PDF and Print-Friendly Versions
Like I mentioned, the patterns all have PDF and Print-Friendly versions.  And you can choose what to show and hide as well.  If you want just a chart, ok.  Or, if you're getting ready to go yarn shopping, maybe you just want the info section and the schematic.  The choice is yours!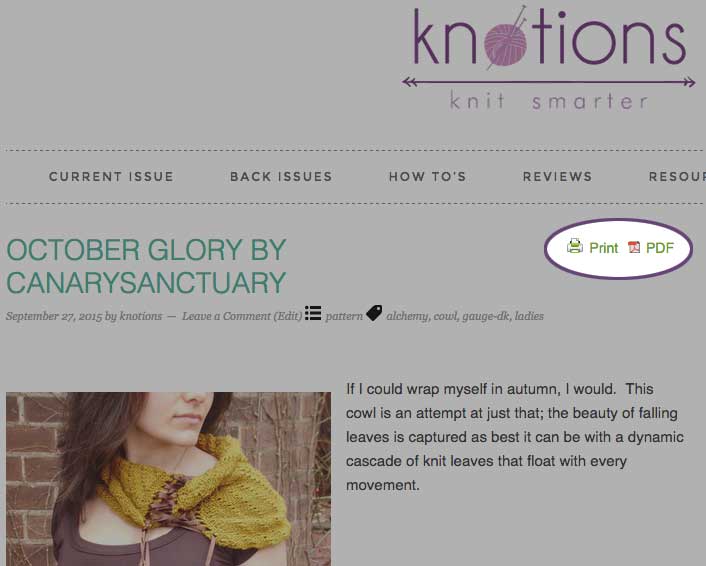 Radio Interview on Ready, Set, Knit
I met with Kathy Elkins last week and had a great chat.  We talked about plans for the site, why I restarted the magazine, designer rights and listening to user feedback.  Listen to the whole interview here.
Keep up with Knotions
Want to keep up with Knotions?  Sign up for our Newsletter (you get a free Ravelry How-to as a thank you).   The first newsletter is going out this weekend – we're focusing on New Fall Yarns and Patterns.  It's been a lot of fun to seek out what's happening and talk to shop owners and designers to see what they have in mind.  You might even find something new to you!
I know I'm a broken record, but I really do want to hear what you think.  So if you see something funky, or if you'd like it to do a certain thing – let me know!  That's how PDF patterns got to the top of the list.
Until next time, I'll catch you on the purl side…